AMA ATV MX Round 5 Ballance MX to Air on NBC Sports
AMA ATV MX Championship - Round 5 - Ballance MX - NBC Sports - Sept. 23, 2012
Morgantown, WV (9/21/2012) - RacerTV captures Round 5 of the AMA ATV Motocross National Championship Series as points leader Chad Wienen battles with defending champion John Natalie, 2011 rookie of the year Joel Hetrick, and a host of other contenders at Ballance MX in Oakland, Kentucky.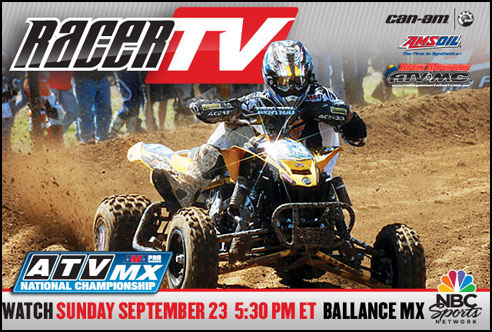 AMA ATV MX Championship - Round 5 - NBC Sports - September 23, 2012
WATCH THIS EPIC EVENT SUNDAY SEPTEMBER 23, 2012 AT 5:30 PM ET ON NBC SPORTS NETWORK
About the AMA ATV Motocross Championship
The AMA ATV Motocross Championship is the nation's premier amateur and professional ATV motocross series, hosted at top motocross facilities nationwide. The 11-round series features the Nation's best racers, teams and sponsors, and is America's largest and longest-running ATV national motocross program. Since 1985, the series continues to expand and produce top talent from the amateur ranks, while premiering the professional class. For more information, please visit www.atvmotocross.com.