Yamaha Rhino 700 UTV Links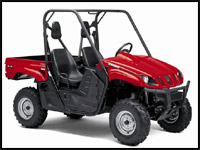 Yamaha Motor Corp., U.S.A. announces an all-new version of its category-leading Side-by-Side (SxS) vehicle, the 2008 Rhino 700 FI Automatic 4x4. For 2008, Yamaha has built more power and fuel injection into this most versatile SxS, while also adding new features that enhance the riding experience.
The new Rhino 700 powerplant moves from 660cc to 686cc, and is adapted from Yamaha's leading utility ATV, the Grizzly 700 FI. That means additional power throughout the entire rev range - most notably the enhanced low- to mid-range power. The Yamaha Fuel Injection (YFI) system improves throttle response
throughout the powerband helping the driver take advantage of that improved low- to mid-range power. YFI offers unmatched performance at high elevation as the system is able to detect and compensate for changes in altitude. The more precise fuel delivery offered by the YFI means clean power delivery, better throttle response and improved fuel economy under a multitude of riding situations. In addition, YFI removes the need for a choke and allows for cold starting, which is great for those early morning hunts or chores around the farm.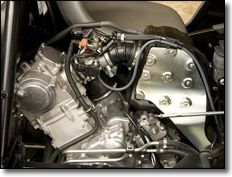 Yamaha Rhino 700's all new Electronic fuel injection ensures peak performance in nearly all conditions and elevations, along with instantaneous cold starts.
The list of engine updates continues with a new forged piston for reduced weight and added durability, and a new aluminum cylinder body with composite coating that offers reduced weight, increased cooling ability and additional wear resistance. The new roller rocker arms reduce friction in the valve train, which allows the engine to rev more freely leading to better overall performance and improved throttle response. Of course, the ultra-convenient electric start feature continues to make it easy to fire up the liquid-cooled, four-valve SOHC powerplant.
Getting the Rhino up and at 'em is as easy as turning the ignition key, while choosing the best gear for your adventure is done with the automotive-style gear shifter located on the center console. Yamaha's ultra-reliable Ultramatic(r) automatic transmission system transfers the power to the wheels and then to the trail -- all you have to do is get on the gas pedal.
The Ultramatic system keeps constant tension on the drive belt to avoid unnecessary wear and tear as well as eliminate "freewheeling," which is sometimes felt on other machines. The result is industry leading all-wheel engine braking - a must when heading down steep hills with a full load such as a pull-behind mower or a cargo bed full of seed bags or hay. For 2008, this tried-and-true system is beefed up for increased performance and durability under the additional power of the 686cc engine.
Also for 2008, the Ultramatic has a larger centrifugal clutch, increasing to 150mm; additionally, the six shoe design, stronger drive belt and lower gear ratio provide improved low-end power and smoother power delivery.
Yamaha's On-Command(r) push button 2WD/4WD system with differential lock is conveniently located on the dash for easy operation
The Rhino is a proven, nimble machine, able to traverse the same terrain as an ATV. Adding to the Rhino's terrainability is the On-Command(r) push button 2WD/4WD system with differential lock, which gives the driver options when it comes to matching machine to terrain. The Rhino 700 has 12.1 inches of ground clearance, and its fully adjustable and fully-independent front and rear dual A-arm suspension offers more than 7.3 inches of travel.