2014 Suzuki KingQuad Utility ATV Models Announced
KingQuad 750 AXi, King Quad 500 AXi, KingQuad 400 ASi & KingQuad 400 FSi
Brea, CA (8/30/2013) - While celebrating 50 years in America, and 30 years of being First on 4 Wheels, Suzuki Motor of America, Inc. (SMAI) announces its 2014 ATV lineup, including the return of the complete roster of KingQuad sport-utility ATVs as well as the the sporty, entry-level QuadSport Z90.
Suzuki KingQuad ATVs have long been the choice of discerning riders who want the overall best combination of power, performance, convenience and price. To deliver that for 2014, Suzuki returns its award-winning lineup of KingQuad ATVs available in Green, Red, True Timber Camo or the new Limited Edition Matte Gray (KingQuad 750AXi Power Steering) and Matte Red (KingQuad 750AXi) body colors.
| | |
| --- | --- |
| | |
| 2014 Suzuki King Quad 750 AXi Camo Utility ATV | 2014 Suzuki King Quad 750 AXi Limited Edition Utility ATV |
The Suzuki KingQuad lineup is assembled in Georgia at the Suzuki Manufacturing of America Corp. facility, and is lead by the KingQuad 750AXi Power Steering ATV. Its blend of features such as Suzuki fuel-injection, fully independent suspension and a compact electric power-steering system make it the ideal choice for the ATV rider who takes work and play seriously. The KingQuad 500AXi Power Steering model combines many of the same top-notch features with a slightly smaller engine. Both the 750AXi and 500AXi are available without power steering.
| | |
| --- | --- |
| | |
| 2014 Suzuki King Quad 500 AXi Red Utility ATV | 2014 Suzuki King Quad 500 AXi Green Utility ATV |
Suzuki's KingQuad ATV family also includes two 400cc ATVs. The Suzuki KingQuad 400ASi uses Suzuki's QuadMatic automatic transmission, while the 400FSi gives riders the ability to shift through five gears using the semi-automatic five-speed transmission. Both these KingQuad ATVs deliver exceptional torque and selectable two- and four-wheel drive for maximum efficiency on the trails or in the field.
2014 Suzuki King Quad 400 ASi Camo Utility ATV

2014 Suzuki King Quad 400 ASi Red
Utility ATV
The 2014 lineup of Suzuki ATVs also includes the Ozark, a 250cc two-wheel drive sport-ute with lightweight performance and a powerful price point.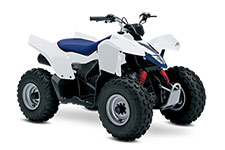 2014 Suzuki QuadSport Z90 Youth ATV
The return of the Suzuki QuadSport Z90, with rider friendly features like its easy-to-use CVT transmission and electric start, will delight families with younger riders
As the creator of the four-wheeled ATV, Suzuki delivers First On 4 Wheels leadership into 2014, just as it did with the Suzuki LT-125 three decades ago.
More information about the 2012 Suzuki product lines can be found at: www.suzukicycles.com