2013 Polaris RZR SxS Model Links
Minneapolis, MN (7/30/2012) -
The Polaris RANGER line is the Hardest Working, Smoothest Riding utility vehicles on the market offering full size, midsize, and multi-passenger vehicles for hunt, farm and trail. For Model Year 2013, Polaris will add two new vehicles to the already comprehensive line-up. Defining an all new class of Hardest Working, Smoothest Riding is the new full size RANGER XP 900; and the new RANGER 800 Midsize combines the 800cc engine with the midsize chassis for a spirited, addition that adds another value model to the family.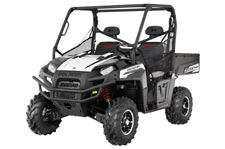 Back for 2013 is the industry-leading, full size RANGER 800 EFI, the standard of Hardest Working, Smoothest Riding but for 2013, Polaris also welcomes an all new class of Hardest Working, Smoothest Riding with the new, full size RANGER XP 900. Innovations such as a new ProStar 900 engine, all-new chassis, new restyled cockpit, more suspension, new flip-up seat storage, new Lock&Ride ™ PRO-FIT cab accessories, larger gas tank, easier serviceability and a quieter ride due to engine repositioning define a whole new class of utility side-by-side. The RANGER XP 900 will join the RANGER 800 EFI and RANGER Diesel in the full size category.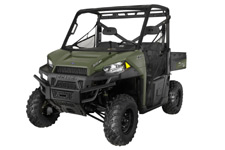 Hard working vehicles need power and the RANGER XP 900 delivers a new class of power with its all-new ProStar 900 engine which churns 60 horsepower, a 20 percent increase, for class-leading torque giving the RANGER XP 900 the ability to tow a class-leading one ton and haul 1000 lb/453.6 kg. The engine delivers smooth power throughout the RPM range thanks to its dual overhead cam design, 180 degree crank firing order and counterbalancing. The throttle control is smooth at all speeds and gear selections, including reverse. The RANGER XP 900 also is quieter with the engine now located under the rear cargo box.
To complement the ProStar engine, the RANGER XP 900 features a new, durable drivetrain built to handle the unit's higher horsepower. It also boasts the strongest belt on a RANGER vehicle so it can tackle the toughest of jobs, and has powerful cooling for the belt and clutches for optimal performance under all work conditions.
Storage is important for work applications and the new RANGER XP 900 offers the most storage in its class. For easier accessibility, the new under-seat storage features flip-up access giving the operator increased and easier-accessible storage inside the cab, and the vehicle features lots of in-dash storage you've grown to expect from RANGER. Outside the cab, the RANGER XP 900 offers a new harder working cargo box featuring more tie-down points, easily-inserted box dividers and a smoother gate release. The cargo box has a 1,000 lb/453.6 kg capacity, can fit a pallet and is compatible with Lock&Ride accessories so it can tackle any hauling project thrown its way.
The RANGER XP 900 has a wide variety of accessories available for a variety of work applications. To ensure the unit is hard working, Polaris equipped it with a high capacity battery and new stator for 30 percent more electrical power to run more accessories at one time. The unit also features a new, easier to install winch mount for faster installation of one of the most popular accessories for a work vehicle