2012 Polaris RANGER UTV / Side X Side Model Line Up
::Continued::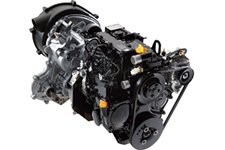 2012 Polaris RANGER Diesel Engine
RANGER Side-by-Sides are known to be the Smoothest Riding vehicles on the market and the RANGER CREW Diesel is no exception. Its long wheelbase combined with its fully-adjustable suspension creates a very smooth ride, even when fully-loaded. The vehicle's suspension is the only four-corner adjustable suspension system that features Dual A-Arms with exclusive top-mounting-point adjustability.
For recreational riding, the user can adjust to a softer setting or adjust stiffer for heavy-duty work. With a suspension travel of 9.6 in/24.4 cm up front, 9 in/22.9 cm in the rear and a ground clearance of 11.5 in/29.2 cm, the RANGER CREW Diesel provides a very comfortable ride.
To complement the suspension and travel, the RANGER CREW Diesel features On-Demand True All-Wheel Drive with VersaTrac that keeps you moving, automatically engaging all four wheels when you need more forward traction and reverting back to two-wheel drive when you don't. When in two-wheel drive, the VersaTrac Turf Mode switch unlocks the rear differential for easier, tighter turns that won't tear up the grass.
Inside the cab, the vehicle has the ability to carry six adults comfortably due to its superior comfort and ergonomics, including a slide-through cab design for easy entrance and exit that also provides lots of legroom. Leaned seatbacks provide extra comfort during travel and 10-inches/25.4 cm of tilt steering-travel provides plenty of steering wheel position options for the driver. For 2012, The RANGER CREW Diesel will be available in Sage Green.
Other multi-passenger models not mentioned above include the RANGER CREW 800 in Sage Green, Solar Red and Polaris® Pursuit Camo with EPS and a Sandstone Limited Edition EPS model, and the RANGER CREW 500 in Sage Green, Solar Red and Polaris® Pursuit Camo, with a RANGER CREW 500 Turbo Silver Limited Edition Model.
Polaris will continue to offer the RANGER 500 EFI, RANGER 400 and RANGER EV midsize vehicles for 2012. The RANGER 500 EFI and RANGER 400 will be available in Sage Green, Solar Red and Polaris® Pursuit Camo, with a RANGER 500 EFI Sunset Red Limited Edition Model. The RANGER EV will be available in Boardwalk Blue and Polaris® Pursuit Camo
More information about Polaris' whole line of Off-Road Vehicle offerings can be found online at www.polaris.com.