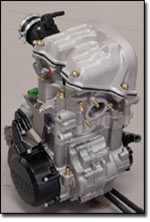 Rotax® 4-TEC 450 EFI
Rotax® 4-TEC 450 EFI
– This new engine is the most powerful in the class. The top-end of the DOHC single has DNA from the Rotax V990 which powers the Aprilia‡ RSV 1000 R sportbike while the crankcase, clutch and transmission are specifically designed for the rigors of offroad riding. Its free-flow design – with the largest piston bore, intake valves and throttle body of the segment – delivers awesome power and great potential for performance tuning. A sophisticated EFI system with superfast micro-controller optimizes performance at every rpm, compensating for both temperature and altitude; throttle response is instant.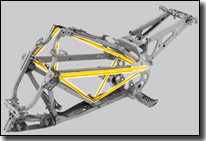 Can-Am DS450 Aluminum Frame
ALTEC™ aluminum frame
– Aerospace-grade aluminum in dualpyramidal design is exceptionally strong and lightweight. Unique aluminum lock-bolt fastening system eliminates the need for welds. Strength comes from computer-optimized design rather than heavier or added materials. The pyramidal structure has been proven on BRP's Ski-Doo® REV™ and REV-XP™ snowmobiles.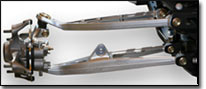 DS 450's R-type Double A-arms
R-type double A-arm front suspension –
The new R-Type forged aluminum double A-arm front suspension delivers razor-sharp handling, remarkable bump absorption, and confident tracking. The radical design with inverted dual-piston caliper – on the inside of the disc – enables placement of the ball-joints and kingpin axis deep inside the wheel for reduced scrub and steering kickback, as well as selfcorrecting behavior under hard braking. All this in a lightweight package with less unsprung weight than competitive designs for a better ride and improved control.
KYB HPG piggyback shocks – Aluminum-bodied shocks with compression and rebound adjustment and threaded pre-load adjustment. Features 9.5-inches (24 cm) of travel in front, 10.2 inches (26 cm) in rear. Lightweight, capable and adjustable.
R-Type rear swing arm suspension – Lightweight design dramatically reduces unsprung weight for quick response, exceptional traction capability and less rider fatigue. Cast-aluminum swingarm with rising-rate linkage, hollow Chromoly 4140 rear axle, extended-reach aluminum
hubs and aluminum chain sprocket.
Wilwood™ braking systems - Inverted dual-piston calipers – mounted inside front rotors – enable unique knuckle/spindle/A-arm design. Front and rear rotors' wave shape is computerdesigned for exceptional cooling.
Performance wheels/tires – Specifically-designed ITP‡ Holeshot‡ SR tires to get maximum performance from the DS 450 EFI. The rims are lightweight, yet durable, because of aluminum construction with rolled bead.
Performance ergonomics – Designed to give the active sport rider room and the right leverage. Narrow body and seat with smooth transitional surfaces, wide foot pegs and deep heel guards.
Performance features – Detachable headlights, interchangeable front fenders