2014 Can-Am Commander MAX & Maverick 1000R X mr SxS
All-new Can-Am Commander MAX Four Seat SxS Introduced
Valcourt, Québec (9/16/2013) - BRP has expanded its line of Can-Am side-by-side vehicles with the new 2014 Commander MAX 1000 and Maverick 1000R X mr SxS / UTV. The new models were unveiled at its dealer show in Orlando, Fla. Along with the two new vehicles, BRP also unveiled a new Can-Am Red color for the Maverick two-seater and Maverick MAX packages, and Light Grey on certain Can-Am Outlander 4x4 ATVs.
2014 Can-Am Commander MAX 1000 DPS SxS
Can-Am Commander MAX 1000 DPS / XT
The new Can-Am Commander MAX 1000 DPS has a 29.5-inch (75 mm) longer wheelbase (29.5 in. / 75 mm) and seating for four adults as compared to the two-seat Commander. Outfitted with Dynamic Passenger Comfort, which includes dual handholds, stadium-style seating and industry-leading comfort for its rear occupants, the Commander MAX is also available in an XT package. Both Commander MAX models use the proven 976cc Rotax V-Twin engine; Tri-Mode Dynamic Power Steering, Double A-arm front suspension and TTI rear suspension. The Commander MAX can tow up to 1,500 pounds (680 kg) and carry 600 pounds (463 kg) in the dual-level cargo box. The Commander MAX DPS and XT are offered in Yellow. The XT package, which includes a WARN winch, front bumper, mud guards and more, is also offered in painted Pure Magnesium Metallic and NEXT G-1 Vista camouflage.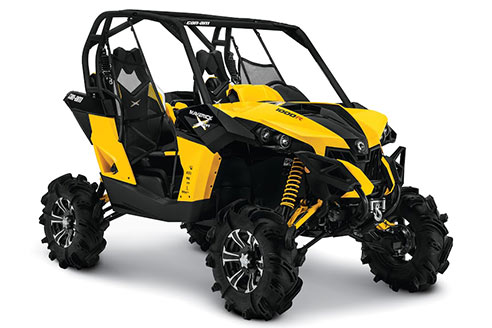 2014 Can-Am Maverick 1000R X mr SxS
Can-Am Maverick 1000R X mr
The 2014 Maverick 1000R X mr is a two-seat side-by-side with mud-specific components to help it dominate in muddy terrain. Outfitted with a front and rear Air Control Suspension with FOX Air-Assist HPG Piggyback shocks and 30-inch Gorilla Axle Silverback tires on 14-inch cast-aluminum ITP wheels, the Maverick 1000R X mr offers both an aggressive appearance and real-world performance. The vehicle includes strategically placed engine air intake and CVT inlets and outlets for superior performance in the challenging mud. Tri-Mode DPS, Visco-Lok QE, Analog / digital gauge package, a 4,000-pound WARN winch, custom steering wheel and X-package graphics and trim are included.
New Color Schemes
An all-new, painted Can-Am Red colour is an additional color offered for both the Can-Am Maverick MAX 1000R X rs DPS and the two-seat Can-Am Maverick 1000R X rs DPS. A new Light Grey coloration is also available for all Outlander DPS and Outlander MAX DPS (500, 650, 800 and 1000) models.
For more information on the entire Can-Am off-road lineup of ATVs and side-by-side vehicles, please visit www.Can-AmOffroad.com.
Bombardier Recreational Products Inc. (BRP)
BRP (TSX:DOO) is a global leader in the design, development, manufacturing, distribution and marketing of powersports vehicles. Distributed in 105 countries, its portfolio of brands and products includes Ski-Doo and Lynx snowmobiles, Sea-Doo watercraft, Can-Am all-terrain and side-by-side vehicles, Spyder roadsters, Evinrude outboard engines, as well as Rotax propulsion systems. BRP employs approximately 6,800 people worldwide.
www.brp.com

Sea-Doo, Ski-Doo, Lynx, Evinrude, Can-Am, Spyder, Rotax, Commander, DPS, Dual-Level and the BRP logo are trademarks of Bombardier Recreational Products Inc. or its affiliates. Visco-Lok, Maxxis, WARN, Garmin and other trademarks are the property of their respective owners.