2013 Can-Am Renegade 1000 EFI 4x4 Sport-Utility ATV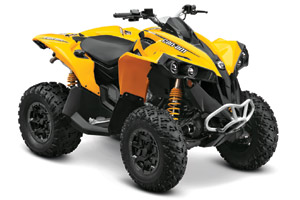 2013 Can-Am Renegade 1000 EFI 4x4 Sport-Utility ATV
The flagship Can-Am Renegade 1000 returns for 2013 in both a standard platform and the impressive X xc package. Both models feature the EFI-fed, 976cc V-Twin Rotax power plant and industry-exclusive SST G2 frame. The Renegade 1000 is the king of the rec-sport 4x4 world, offering a stellar power-to-weight ratio and supreme acceleration.
By using Computer-aided Vehicle Dynamics (CAVD) software and a principle of design called Geometric Contact Control (GCC), BRP engineers took an innovative approach to all aspects of the chassis design on the Can-Am Renegade 1000 ATV.
Through its years of testing and race-proven, research-and-development efforts, the engineering and design teams were able to create a modern sport ATV for those who seek ultimate performance and unprecedented comfort.
The Can-Am Renegade 1000 X xc package, which features a new X package graphic scheme for 2013, was developed using BRP's vast racing experience in the Can-Am / Grand National Cross Country (GNCC) racing series. Whether dominating a trail or winning a race, the Can-Am Renegade 1000 and Renegade 1000 X xc aim to please and look good doing it.