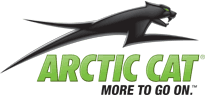 2008 Arctic Cat 700 Diesel Super Duty Utility ATV Info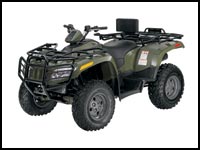 2008 Arctic Cat 700 Diesel ATV
New for 2008 Arctic Cat 700 Diesel Super Duty ATV
SpeedRacks with multiple quick-attach accessory options
Redesigned front bumper with new plastic fascia
Improved wire routing through steering post and frame
Available in Lime Green, Red, and Dark Green
Turn the key on the 2008 Arctic Cat 700 Diesel Super Duty ATV and the glow plug lets you know something pretty cool is about to happen. As the big engine turns to life, heads turn. There's something about a diesel-powered machine that just says, "C'mon, that all you got?" If it looks familiar, that's because it's based on the same chassis used by the TRV. Sure it looks like any other Arctic Cat full-size ATV, tough and rugged, but around the jobsite, farm, and military base, this one's boss.
The 2008 Arctic Cat 700 twin cylinder, SOHC diesel engine provides 50% greater fuel mileage over a conventional gasoline engine and provides gobs of low-end torque. The engine runs efficiently on six forms of diesel fuel (DF 1, DF 2, DF A Arctic, JP 5, JP 8 and up to 20% Biodiesel (B20)) with a glow plug pre-heater for starting.
If the term Biodiesel has caught your attention, Arctic Cat tested the new ATV on the alternative fuel made from vegetable oil or animal fat with the Agricultural Utilization Research Institute (AURI) and the Minnesota Soybean Growers. "Arctic Cat was very impressed with B20," says Ole Tweet, ATV Genral Manager. "The blend burns cleaner than conventional diesel, producing fewer carbon dioxide emissions and lower levels of hydrocarbons, carbon monoxide, and particulates. That complements Arctic Cat's stewardship goals," Tweet says. "We're trying to reduce the impact of our ATV's on the environment and we like the idea of making an ATV that could run on renewable fuel grown by farmers, some of our best customers."
The only 3-in-1 diesel ATV on the market has numerous features to ease your work chores.
Chief among them is the standard SpeedRack, or have your Authorized dealer transform your Diesel into a two-rider machine. Available accessories are the two-up touring seat for extended trail trips or add a heavy-duty cargo box for larger work loads. The quick pin-pull system allows removal of all accessories in a matter of seconds.
Passengers in the two-up mode will appreciate integrated footrests for smooth and secure footing. Likewise, the foot brake system incorporates a remote reservoir master cylinder for improved feel and is complemented by floating brake calipers for added value.
Up front you'll notice styling cues are taken from the Cat Family for a great look. The front and rear SpeedRacks have a contoured shape and attachment mounting positions for a multitude of accessory options. An integrated winch mount makes installation of your future winch a snap, due to the location of the winch components. A digital instrument pod displays important operation information (MPH, odometer, dual trip meters, hour meter, and clock).
An electronic 2WD/4WD switch makes going in/out of 4WD as simple as pressing a button. Start-In-Gear ability and single lever hand operated hydraulic disc brakes.
The double A-arm front suspension and fully independent rear suspension (both with five-position spring preload adjustment) deliver 8 inches of travel and keep the rider firmly planted and comfortable. And 10 inches of ground clearance helps you clear nearly all trail obstacles. Other premium features include 25-in. Dunlop QuadMax tires, zero-maintenance suspension bushings, sealed driveshafts, large 5.5-gallon fuel tank and durable, full-length plastic skid plate.
3-in-1 ATV
• SpeedRack is easily removed simply by removing two quick-pull pins
• An optional rear two-up seat can be purchased for use when the SpeedRack is not in use or, for heavier loads, a heavy-duty cargo box. The only 3-in-1 diesel ATV available
Two-up Riding Capability
• Redesigned seat with better ergonomics in mind, specifically designed for two-person riding
Large Capacity SpeedRacks - Industry leading weight capacity and overall cargo carrying surface area allows 100 lb carrying capacity on the front rack and 200 lbs on the rear
SpeedRack Technology
• Allows very quick installation and removal of a wide variety of Arctic Cat exclusive accessories without the need for tools or bloody knuckles
• SpeedRack and its accessories add value to the machine and also enhance the efficiency of your hunting, fishing, farming, or utility chores
Instrument Pod - Digital Instrument pod displays 14 critical operation information indicators including clock/hour meter, fuel level, mode button, set/reset button, odometer/trip, gear position, speedometer/tachometer, needle display, differential lock, drive select, high beam, battery condition, temperature, and oil pressure
Protection and Low-Maintenance - Wide fenders for increased water and mud protection, a high-density durable plastic skid plate that doesn't rip or rust, "Stick Stoppers" protect CV boots, and ATVs are outfitted with zero-maintenance suspension bushings, sealed driveshafts (front and rear), and constant-velocity (CV) joints
Engine Side Covers - Easily removable engine side covers diffuse sound while creating a clean appearance to the engine compartment
Tires - The Dunlop QuadMax tire is standard on all Arctic Cat diesel ATV's (25 x 8-12 front, 25 x 10-12 rear) for improved traction, durability, and ride handling
686 cc, In-line Twin, SOHC, 4-stroke, 2-valve
• Mechanical injection for flawless operation with easy serviceability.
• Liquid cooling system with high-capacity radiator and thermostatically-controlled cooling fan provides consistent engine operating temperatures
• Duramatic automatic transmission with long-life maintenance-free belt
Fuel Types:
• DF 2 - Diesel Fuel No. 2 is recommended for normal ambient operation
• DF 1 - Diesel Fuel No. 1 is recommended for cold weather operation in ambient temperatures, which would result in DF 2 "waxing" if not used during cold weather. No degradation in performance or engine/component life
• JP 5 & JP 8 - A common turbine fuel used in all military vehicle applications
• DF A Arctic - Commonly used in areas with sub-zero ambient temperatures only
• Biodiesel - The Arctic Cat 700 Diesel runs on biodiesel blends up to 20% (B20)
Engine Durability - The 700 Diesel is so durable that the first scheduled engine rebuild is suggested at 10,000 hours. For the average ATV rider, that would equate to more than 100 years of riding
Cold Starting - Identical to a diesel pickup truck, the glow plug on the 700 Diesel preheat the combustion chamber to burn atomized fuel
Workhorse - The 700 Diesel is a high torque engine that produces gobs of power at low RPMs – the engine is most efficient under 4400 RPM and produces peak torque around 2250 RPM
Fully Independent Suspension (FIS) - Arctic Cat ATV's have an optional sway bar available as an accessory purchase through your authorized dealer. Similar to any off-road 4x4 vehicle, eliminating the sway bar lets the 8" of front or rear Fully Independent Suspension articulate through the full range of suspension travel. This increased articulation provides full tire contact in all types of off-camber terrain. The addition of the sway bar will impact the traction capabilities; however, it will enhance flatter cornering in aggressive trail riding
Industry Leading Ground Clearance - 8" of ground clearance enhances the ability to navigate through mud or over large rocks, logs, and other objects encountered in rough terrain
2-Inch "Automotive-Style" Receiver Hitch - This feature allows the consumer to remove the hitch from their 2" automotive receiver and install it into the ATV's receiver hitch
Floating Hydraulic Disc Brakes
• Low maintenance, positive stopping power in either dry or wet conditions
Adjustable Shocks
• Set the preload on the shocks to tailor the ride to individual riding styles and loads.
On-The-Fly Electric Shift 2WD to 4WD with Front Locking Differential - Full-lock front differential transfers engine torque to both front wheels when selected for added traction with a flip of the switch. 2WD/4WD switch is located on right-side handlebar for quick, convenient shifting in and out of four wheel drive
About Arctic Cat:
Arctic Cat Inc., based in Thief River Falls, Minn., designs, engineers, manufactures and markets all-terrain vehicles (ATVs) and snowmobiles under the Arctic Cat® brand name, as well as related parts, garments and accessories. Its common stock is traded on the Nasdaq National Market under the ticker symbol "ACAT." More information about Arctic Cat and its products is available on the Internet at www.arcticcat.com