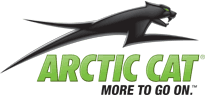 2008 Arctic Cat 90 Utility 4x2 Mini ATV Info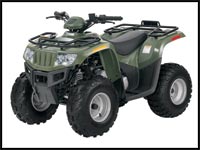 2008 Arctic Cat 90 Utility 4x2 Mini ATV
If you have a son or daughter, you know the most precious thing on earth is getting to spend more time with them. Every day spent outdoors will be a memory etched into their brains for a lifetime. Arctic Cat youth ATV's can leave that impression and bring back repeated smiles for years to come.

Cat-Family styling and fun doesn't end with Arctic Cat's full-size ATV's. The same quality features and benefits that define an Arctic ATV are also found in the 90 cc four-stroke DVX and Utility youth platforms.

Both machines are outfitted with a multitude of safety features including full loorboards, padded handlebars, removable keys, standard rear brake lights, and a highly visible orange whip safety flag.

Both 90 models are designed for riders 12 and older and are powered by a 90 cc four-stroke engine with Duramatic automatic transmission and 15mph speed governor.

Automatic choke is standard on both machines, making starting simple and quick. and-operated front and rear brakes keep both machines in control, as do the independent single A-arm front and rear swing arm suspensions. Both machines get the Cat-Family look with your choice of DVX- or Utility-look bodystyling. Put the game controller down and get outside and ride with your kids; it will leave a smile that's More to Go On.
Clean, quiet, reliable performance without the hassle of mixing of oil and gas Fuel-efficient 4-stroke engine also enables your youth to ride longer on a tank of gas
90 cc, air-cooled, Single Overhead Cam, 2-valve, 4-stroke engine
Automatic CVT transmission
Electric start with automatic choke and kick-start backup
Removable throttle/speed limiting governor
Utility styling that resembles full-size bodywork
Fully integrated floorboards for solid rider footing, stability, and control
Adjustable spring preload shocks allow simple suspension adjustment for different sized riders, conditions, and skill levels
Rear hydraulic disc brakes are self-cleaning and provide excellent stopping power. All that stopping power is connected to a standard rear brake light for increased safety for riders following behind
Clean, quiet, reliable 90 cc 4-stroke model developed especially for riders 12 and older
Bright orange whip safety flags included for visibility and increased safety
Utility look body styling so youth can look like Mom or Dad's full-size Arctic Cat ATV
Standard brake light for added safety when being followed
Parent controlled throttle/speed limiters so adults can adjust speed outputs to youth's skill level
About Arctic Cat:
Arctic Cat Inc., based in Thief River Falls, Minn., designs, engineers, manufactures and markets all-terrain vehicles (ATVs) and snowmobiles under the Arctic Cat® brand name, as well as related parts, garments and accessories. Its common stock is traded on the Nasdaq National Market under the ticker symbol "ACAT." More information about Arctic Cat and its products is available on the Internet at www.arcticcat.com