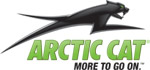 2010 Arctic Cat Super Duty Diesel 4x4 Utility ATV Info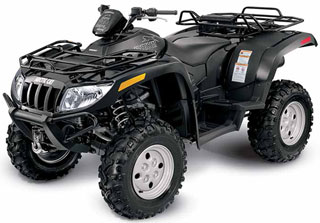 2010 Arctic Diesel 4x4 ATV
New 2010 Features: Super Duty Diesel Arctic Cat ATV
A completely redesigned electronic 2WD/4WD/Differential Lock switch on the right hand control makes switching in/out of 4WD or Diff Lock an easy, condensed process.
Winch: 2,500 lb.winch
Colors:
Introduced in 2008, Arctic Cat remains the industry leader in the diesel ATV market for 2010. A new color and winch lead the way for this formidable powerhouse.
The 700 twin cylinder, SOHC diesel engine, provides 50% greater fuel mileage over a conventional gasoline engine and provides gobs of low-end torque. The engine runs efficiently on six forms of diesel fuel (DF 1,DF 2,DF A Arctic, JP 5, JP 8 and up to B20 Bio Diesel) with a glow plug pre-heater assist for low temperature starting.
Arctic Cat Diesel ATV Engine
If the term Bio Diesel has caught your attention, Arctic Cat extensively tested the Super Duty on the alternative fuel made from vegetable oil or animal fat with the Agricultural Utilization Research Institute (AURI) and the Minnesota Soybean Growers.

The blend (B20) burns cleaner than conventional diesel, producing fewer carbon dioxide emissions and lower levels of hydrocarbons, carbonmonoxide and particulates. All goals that help Arctic Cat reduce the impact on the environment.

A brand new all-encompassed electronic 2WD/4WD/Differential Lock switch on the right hand control makes going in/out of 4WD or Diff Lock an easier process.

The double A-arm fully independent front and rear suspension (both with five-position spring preload adjustment) delivers 8 inches of travel and keeps the ride firmly planted and comfortable. If 10 inches of ground clearance doesn't help you clear nearly all trail obstacles, the winch will.
686cc, liquid-cooled, In-line win, SOHC, 4-stroke, 2-valve with Bosch Mechanical Injection.
Cold starting is identical to a diesel pickup truck; the GlowPlugs on the 700 Diesel preheat the combustion chamber to improve the burn of atomized fuel.
The high torquemotor produces gobs of power at lowRPMs – The engine is most efficient under 4400 RPMand produces peak torque around 2250 RPM.
First scheduled engine rebuild is suggested at 10,000 hours. For the average ATV rider, thatwould equate to more than 100 years of riding.
DF 2 - Diesel Fuel No. 2 is recommended for normal ambient operation.
DF 1 - Diesel Fuel No. 1 is recommended fuel type for coldweather operation in ambient temperatures, which would result in DF 2 "waxing" if not used during cold weather.No degradation in performance or engine/component life.
JP 5 & JP 8 - A common turbine fuel used in all military vehicle applications
DF A Arctic - Diesel Fuel A Arctic is commonly used in areaswith sub-zero ambient temperatures only.
Biodiesel - Can be considered DF 2. TheArctic Cat Diesel 700 runs on blends up to 20% or B20.
About Arctic Cat:
Arctic Cat Inc., based in Thief River Falls, Minn., designs, engineers, manufactures and markets all-terrain vehicles (ATVs) and snowmobiles under the Arctic Cat® brand name, as well as related parts, garments and accessories. Its common stock is traded on the Nasdaq National Market under the ticker symbol "ACAT." More information about Arctic Cat and its products is available on the Internet at www.arcticcat.com