2010 10th Annual 3 Wheeler World Trike Fest Event Report
Haspin Acres - Laurel, IN
2010 10th Annual
Trikefest 3 Wheeler Links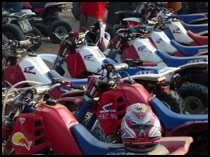 The 10th Annual Trike Fest attracts hundreds of 3 Wheeler enthusiasts for a weekend of fun

Laural, IN - A lot of us 4 wheeler guy and gals think of 3 wheelers being a thing of the past. Even some of us like myself weren't even born until after all manufacturing of 3 wheelers were put to a halt in April of 1988.

Believe it or not there is a whole following of die-hard 3 wheeler fanatics still today. Every year hundreds of 3 wheeled enthusiasts make the trek to Haspin Acres located in Laurel, IN. People around the world come to Trike Fest including Canada, Germany, and Australia. Trike Fest is a four-day long event that consists of 3 wheeler motocross races, drag races, Hill climbs, Trail Riding, and down home conversing with other enthusiasts.

This year marked the 10th year anniversary of Trike Fest. The event is held the following weekend after father's day each year. Around 200-300 people show up every year with their piece of history. This year's event hosted around 300 enthusiasts ranging from children to senior citizens. Trike Fest started in 2001 as a small get-to-gather of about 16 members of 3wheelerworld.com and has grown to an all out event that it is today.
Trike Fest has grown from over a dozen people to several hundred over the past 10 years with the event growing each year
Haspin Acres has hosted the annual Trike Fest since 2002, which is held on the weekend after Father's Day
In 2002, Trike Fest was moved from North Carolina where it was being hosted at a members house to 700 acres in Southern Indiana called Haspin Acres. Haspin Acres owner and welcomed the somewhat ridiculed 3 wheelers into their off-road park with open arms. Haspin Acres provided a more centralized location and had many accommodations that made it a great place to host such an event.

The park offers 2 motocross tracks, dirt drag strip, a knurly hill climb called the "Devils Backbone", grassy areas for camping and technical trails for the woods riders. Often times at some Off-Road Parks 3 wheelers are frowned upon. "Pete the manager of Haspin Acres and staff has always treated us like gold" said William Golightly.

"Its difficult because of the stigma that three-wheelers have to find a place that'll even let you unload, much less welcome a couple hundred of them on one weekend with open arms! William is partly responsible for organizing and putting on the event every year and has been attending Trike Fest since 2004.
Haspin Acres offers a variety of terrain for everyone including a dirt drag strip, 2 motocross tracks, and 700 acres of trails, but drag strip is one the favorite locations among the three wheel crowd for bragging rights
It was Williams 7th year attending Trike Fest this year at Haspin Acres. "Even though I had been already riding from a young age and been around trikes my entire life, I'd never been to a real off-road park before that. I was completely hooked after wards. I got a bit by the bug bad the first year at Trike Fest and I started getting into it really heavy." William first came to Trike Fest with a stock 1985 Tri-Z. The following years William showed up at the event with the same Tri-Z with more and more aftermarket and custom parts.