Suzuki QuadRacer LT 250R ATV Project Build
Duncan Racing Gives New Life to a Classic Two-Stroke ATV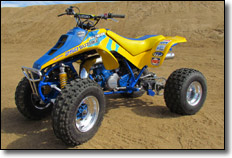 Freestyle Rider Seth Fargher's 1991 Suzuki LT 250R got more than just a make over thanks to Duncan Racing

Santee, CA (8/5/2011) - In today's technologically advanced world of four strokes and fuel injection, it's rare to see a classic two stroke sport ATV and even rarer to find one that hasn't been beaten within and inch of its life. The folks over at Duncan Racing recently put together one sweet ring dinger with the help of some very generous supporters and we couldn't pass up the opportunity to check out this classic Suzuki QuadRacer.

The idea behind the project was to restore a mildly modified and well-worn 1991 LT 250R to its stock form. Lenny, Loren, and the crew at Duncan racing went to great lengths putting this beauty back together and their attention to detail made the end product nothing short of spectacular.
The ATV actually belonged to freestyle motocross rider Seth Fargher and as you can imagine had seen some serious abuse. When it arrived at Duncan's world headquarters in Santee California the ATV had not been started in almost two years, had a severely damaged frame and aesthetically speaking, needed a major makeover.
After bringing the 1991 Suzuki LT 250R back to life, we noticed that the QuadRacer handles great both on the ground and in the air!
The first order of business was to deal with the frame issue. Since "stock" was the theme for this build there was no doubt in anyone's mind that the yellow frame had to go. Seth supplied an additional frame which after some serious weld repair, was sent to ECP Powder Coating in El Cajon, California along with the A-arms, grab bar and foot pegs.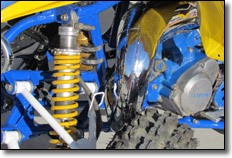 Precision Concepts revamped the Ohlins front shock to give the QuadRacer a plush ride out on the track or trail

The quad had been outfitted with Ohlins suspension up front which, like most of the quad, needed some serious attention. Duncan called on Precision Concepts to rebuild the front shocks along with the stock rear, which they had freshened up and sent back to the shop in no time at all.

As mentioned the old LT hadn't been started in almost two years, so Loren Duncan went to work freshening up the engine with a new piston and cylinder head. They also bolted on a full Paul Turner exhaust system to help that two stroke engine scream.