Sedona, Arizona ATV & SxS Desert Riding Adventure
::Continued::
In Arizona, it is legal to ride your ATV & SxS vehicles on the road if they are registered, so you can rent your vehicle and drive right out of the Sedona Off-Road Center parking lot & straight onto the road to head to one of the many trail heads
There are four main trail maps that are all in driving distance of town and all offer their own unique riding experience. In Arizona it is legal to drive ATV and Side-by-Sides on the road if they are registered with the state.
After just over a mile of driving on the pavement, we made our way to Schebly Hill Road, which is open to automobiles as well as off-road vehicles, but it is rough road that is covered in rocks, so we wouldn't recommend taking a car, but it surely fun on an ATV, and the drive to the top offers insane views of the Sedona valley.
Riding on the roads makes it very easy to access all the trails around Sedona, not to mention it's a cool feeling driving up-town Sendona on an ATV or SxS / UTV! There were a couple times however while driving down the street I saw a cop car and I had a thought "Oh man there's a cop! There going to pull me over because I'm riding on the street!" but of course that wasn't the case.
At the point the Schebly Hill Rd goes from pavement to dirt, there is a pull off area to park and unload your off-road vehicle. Also, there is a picnic area with restrooms, which is an added bonus
The first trail we checked out was Schebly Hill Road. Named after Sedona's first Post Master and Major T.C. Carl Schebly, this trail winds along the Munds Wagon Trail along the Mogollan Rim first created in 1902. The trail has many changes in elevation and climbs to over 2,000 feet over Sedona. There are many designated spots along the trail to pull over and take in the scenery. The view overlooking Sedona is breath taking! It was pretty amazing to think that over a hundred years ago pioneers took the same route along the cliff side only by horse and wagon.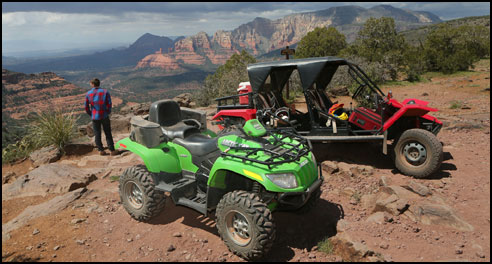 There are several overlooks along the way to the top & the views are breath taking to say the least & riding or driving in an off-road vehicles makes it even better to enjoy the scenery on the way to the top.
There are also a few spots long the trail including one of the overlooks were the movie "Blood on the Moon " in 1948 and more recently National Lampoon's Summer Vacation were filmed.
Once you reach the top, the scenery is dramatically different with a pine tree forest and Foxboro Lake along Schebly Hill Road
Further down the trail there are meadows overgrown with juniper that were once used for cow grazing fifty years ago. Here it is said that you can see many elk and mule deer in the early morning or late afternoon. As the desert grass slowing turns to ponderosa pine trees, the trail leads to Foxboro Lake. When we arrived at Foxboro Lake we stopped and did a photo shoot with the Arctic Cat Utility ATV. The marshy landscape and wildlife looked like something from an old oil painting
ATVriders.com's Jeff Vanasdal rides past Foxboro Lake