Muddy Bottoms ATV Park
Louisiana's Muddy Bottoms Riding Park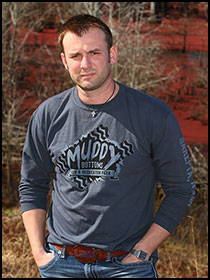 Muddy Bottom's Jeff Drost
Sarepta, LA (3/25/2014)
- Although the Muddy Bottoms ATV Off-road Park in Serepta, LA is still under construction, we got to take a sneak peek of this wildly impressive off-road riding destination in northwest Louisiana before their grand opening event memorial day weekend.
Muddy Bottoms ATV Park is unlike any riding park we have visited. The park is nestled on 5,000 acres of land that offers various terrain to every skill level. If the sheer size of the riding park wasn't impressive enough, the owners of the park have added many resort like features and amenities to the park including all paved roads, shower house, Pro shop, repair shop, and even a spray park and a large amphitheater that can host some of the largest acts in the music industry.
We had a chance to visit this unique riding park while they were in the final stages of construction and to talk with Muddy Bottom's Jeff Drost about the park and what Muddy Bottom's has in store!
ATVriders.com: Jeff Drost can you give us a little insight on how you got involved with the Muddy Bottoms Park Project?
Jeff Drost: Well, I've been an ATV and mud rider for about eight years now and I ran a mud park in East Texas for several years before I was recruited by the Madden's to run Muddy Bottoms. Once they showed me the place, the footprint of the property, it was a no brainer for me to take the job.
ATVriders.com: What is the total acreage of Muddy Bottoms Park?
Jeff Drost: The park has a footprint of about 5,000 acres, and the lake on the inside is about 1,400 acres in the middle of the park, which is all surrounded by land so we have a little over 3,000 acres of ridable terrain.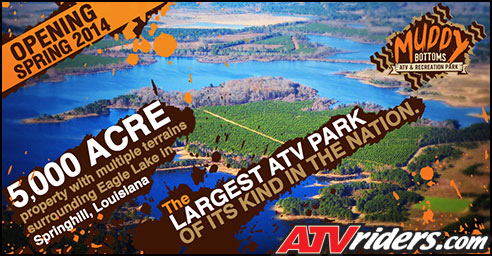 Muddy Bottoms Off-Road Park encompasses an impressive 5,000 acres that will be a state of the art riding destination for all off-road enthusiasts
ATVriders.com: What was the land for Muddy Bottoms Park originally used for?
Jeff Drost: International Paper actually owned this property for several years and used it for a pine tree plantation.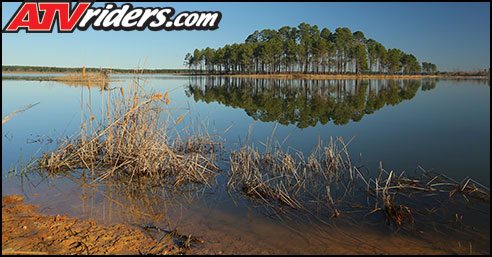 At the center of the Muddy Bottoms Park is a large lake that acts as a nice backdrop & central hub for all the amenities at the park. For an additional fee, the island in the center of the lake is also available to rent on event weekends
ATVriders.com: How long has the Muddy Bottoms Park building process been going on? The actual time for converting it into a park.
Jeff Drost: The thought process started about seven years ago and we've actually been out here with heavy equipment for about nine months now, and there were pine trees everywhere, so it took quite some work to get the road system and drainage into place.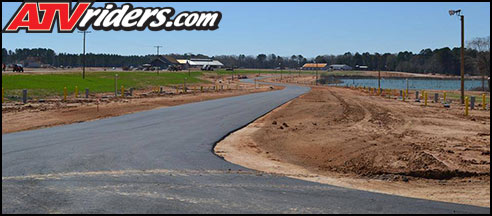 All the roads will be paved at Muddy Bottoms Off Road Park
ATVriders.com: At the entrance you have this great big pavilion building, can you tell us how that and your gate system is going to work once installed?
Jeff Drost: One of the biggest complaints from some of these ATV riders when they go to some of these big events is how long the entry process takes, so we built the welcome center with four lanes, an all-paperless process, swipe a driver's license, pay with a credit card, you can fill out everything online, show up with the barcode receipt printed out from online, so we can really get people through the gate fast here. Once they get in all of the roads are paved so there is no dust or gravel roads. Once you get to the gate you'll really be able to see a difference between us and other parks.

A four-lane entrance gate will provide a quick way for participates to enter the park