Hatfield McCoy 2009 Annual Trailfest Attracts Off Roading Enthusiasts
Friday Night Rain Wouldn't Stop The West Virginia ATV & UTV Trail Riding
Hatfield & McCoy
TrailFest ATV & UTV Links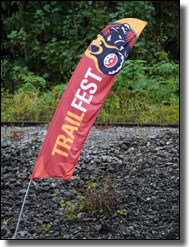 The 2009 Hatfield McCoy TrailFest attracted Off Road enthusiasts from all over

Gilbert, WV (10/27/2009) - Once again, thousands of off roading enthusiast set their sights on the coal region of southern West Virginia as the Hatfield McCoy trail system again sponsored the annual "Trailfest" in Gilbert WV. With entertainment on hand for the entire family, the hundreds of miles of trails would have to fight for its share of the fun as the riders had the chance to participate in various activities that usually aren't found on the trails!

Vendors set up shop to offer products and supplies for trail bound folks, and good food was offered throughout the weekend which would be just the ticket after the weather turned nasty bringing a lot of rain to the area Friday night. The trails always have some water on them, but the vicious storm made sure none left without a healthy coating of Hatfield mud!
Vendors offered products and supplies to riders who came out for the event, wether they were ATV, UTV, or SxS enthusiasts. Riders would get some nasty weather Friday night, but that would only lead to some muddy trails and would not stop the trail riding
Downtown Gilbert is always a hub for trail riders who can cruise down main street to get supplies and fuel, and even a trip through a fast food joint for some grub. Restaurants open their doors and welcome riders in for some fine fare that is sure to make the hungriest trail-hound leave stuffed! For many, this type of experience on the trail is un-heard of, but it is exactly what makes Hatfield McCoy so special. The addition of the event to the weekend would draw even more riders as everyone met up at the Larry Joe Harless Community Center which would serve as ground zero for the weekend.
Downtown Gilbert offered trail riders places to stop for food, fuel, and just a plain rest from all the riding. From hotels and motels to the law enforcement in the region, everyone works in partnership with riders and the entire system.