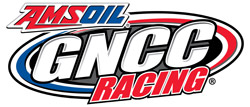 Desert Racer Trent Kendall Takes on the Mountaineer Run GNCC
::Continued::
After getting a rough start, Kendall began to get arm pump that caused him to slow down after a couple of miles
Within the first mile and a half I managed to get high centered on a rock, I backed off it only to get stuck again. I jumped off the quad and lifted and pushed to get it unstuck. Then I hit mile 2 where two people from McGill's crew including my friend Adam were standing as spotters pointing out good lines. It had only been two miles but my arms were already fully pumped up and I couldn't feel my hands. I hadn't had pain like this in years. I guess I should not have been surprised because I tend to get arm pump at every new race. I tried to breathe and relax and eventually I could feel my hands but my arms and shoulders were on fire the whole time.
I wasn't there to ruin anyone's season so I was careful to move out of the way whenever I was caught. Around mile 6 I was caught by a train of riders and I let them all go, they were hauling too. I hit the big mud hole at mile 7 and got through no problem and even picked a cleaner line and got around 4 stuck riders. I was looking forward to the open field sections because it's the only place to open it up and I figured I could make up time there since whoops and chop are things I am used to; but my hands and arms hurt so bad I couldn't really push it.
The Mountaineer GNCC featured many rocky sections that never seemed to end
The back half of the course had giant rocks that never seemed to end, they are firmly implanted in the ground and they sap your energy like crazy. I always thought tireballs were invented for Baja but turns out they had to be invented for woods racing. You bang into these sharp rocks hard, the skid plates and wheels take a beating.

I made it to the start finish line and my lungs felt fine but my arms were still on fire. The next lap was uneventful then at the start of lap 3 I was suffering pretty badly. I came to mile marker two and I distinctly remember thinking you have to be kidding me. Those 2 miles felt like at least 80 miles. I have done a lot of hard racing including the famous San Felipe whoops, the brutal cinder trails at 7000 feet in Flagstaff Arizona and the long hot silty trails of the Las Vegas to Reno race in August and I have never, ever stopped during a race to get a break. Last year I did a 175 mile desert race in 3.5 hours and for 120 of those miles I had a front flat tire that made it seem like I was in a wrestling match the whole time.
I never stopped and I even came back to win it on the final lap. Well during lap 3 of this GNCC race my arms and hands could not take it anymore. I was not enjoying a second of it and I felt out of control being so close to the trees and not being able to feel the bars. So I am sad to admit I had to stop and rest and stretch my arms.
The 45 second stretching session didn't help much. I kept on going and then I saw what happens when you go too fast in these woods. There was a racer wadded up in the trees part of the way down a little ravine. He was ok.

The rocks I mentioned earlier were getting really fun now that more of the soil around them was getting ripped out. At the start of lap 4 on an uphill section I got out of the groove and went straight into a very big tree. I was not going fast when I hit it and thankfully I managed to square it up on the bumper as not to damage the a-arms, spindles, tie rods etc. I rolled backwards and got around the tree ok. Shortly thereafter I pulled over to let a racer by and stretch my shoulders again when the 3 pro leaders came flying through and it looked like Adam was in the front! I was very pleased that I did not hold them up. I was also pleased that I knew this would be my last lap since I had just gotten lapped.
I made it to the finish line unscathed in a total of 2 hours and 18 minutes with 4 laps completed on the brutal 11 mile course. I finished an embarrassing 90th out of 151 riders in the PM race. I was also 17th out of 23 in the XC2 Pro Am class. At the pace I was racing I probably would not have been top 20 in the morning race.
Mountaineer Run GNCC XC1 Pro ATV Podium (left to right)
Chris Borich (2nd), Adam McGill (1st), Chris Bithell (3rd)