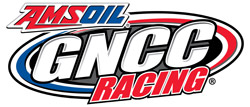 Desert Racer Trent Kendall Takes on the Mountaineer Run GNCC
::Continued::
Adam had already installed the twist throttle I mailed him earlier since I can't race on a thumb throttle. We watched Adam and his dad as they finished prepping his national quad and fully assembled his 10 hour Heartland challenge machine. They work great as a team and it was fun watching them work and learning some of the tricks the GNCC guys use.

Adam's mom Clara made lasagna for dinner with homemade tea and homemade dessert. This homemade food would be a running theme through the weekend that rivaled the racing in terms of satisfaction. Adam gave us a tour of his tiny hometown where he went to high school. He tried to overplay how small things were but little did he know that I also hail from a tiny hometown with a tiny high school. I walked away a winner in the smallest graduating class competition.
Friday we headed to the race in the RV with Adams family while Adam headed to a nearby town to hang out with the kids at a children's hospital. The winding road with giant over hanging GREEN trees was very fun for me. The roads in Arizona have almost no curves and of course we don't have many trees in Phoenix. The giant grassy hills and pit area at the race site where amazing to me.
Trent Kendall was overwhelmed with all the greenery and tight woods that are featured in each GNCC ATV & SxS Race

Everything was green and thankfully things were drying out so it was not too muddy. It sounds silly, but it was about this time I realized I had never raced on grass before. I had no idea what kind of traction you get on grass. If you tried racing on grass in Arizona the owner of whatever golf course you are on would call the cops.

Adam from LoneStar and I walked the course while it lightly rained. I was taking pictures like an Asian tourist. There were so many interesting things to see: giant logs we'd be racing over, sections that had no trail at all just tall green stuff, mossy logs, mushrooms, a mud hole or two, and more. As we walked the course my brain was telling me there is no way an ATV can fit in that gap between those trees. My brain always pictures a 50 or 51" wide desert/mx setup. The GNCC guys run 46-48", those few inches go a long way on this tree lined course.
The McGill family cooks some mean homemade meals at home and at the track!
For lunch we had one of the best ham sandwiches I've ever tasted thanks to the homemade mustard. Homemade mustard!? I've never even heard of it and now I wish I had stolen that jar and took it home with me. There were also homemade dill pickles. We had hamburgers and homemade pasta salad at dinner with ordinary "from the can" baked beans. Adam's dad Mark had to rub it in by telling us the beans are usually homemade too.

Micah from Custom Axis shocks came by to hang out and make sure Adam was all set. The pro pit area where we were at was a beehive of activity. At the GNCC races all of the pros pit in a big row in order of the points standings from the previous year. It was cool seeing all the pros together, it would be awesome if WORCS could do this too. Adam from LoneStar was over with the LoneStar sponsored Yamaha team checking in with Walker Fowler and his dad.
Chris Borich was riding his bike around with his dog aptly named Champ. Chris Bithell and Johnny Gallagher were prepping. All the girlfriends and wives were hanging out together and having a good time. It appeared to be a close knit group like a family. Many of the pros had tables setup where they signed autographs for kids and adults alike. It was awesome to see ATV racers getting the rock star treatment.