400ex Choke Removal (written by Knighttime & Lrd Mx400ex)
Description: Removing the choke plate to increase airflow. You maybe be thinking right now "How the heck will I get it started during winter time when I don't have a choke?" Well the solution to that is 42 pilot jet, it solves the cold starting blues and you wont need the choke any more.
Purpose: A nice increase in throttle response. There is more response and most likely a little added horsepower as well. You can fell improvement all through the powerband.
Procedure
Step 1. Remove the rear fender, front fender, gas tank, air boot, and anything else that is needed to be removed to access/remove the carb.
Step 2. With the carb removed, remove the yellow choke lever. BE CAREFUL TO AVOID STRIPING THE SOFT PHILIPS SCREW!
Step 3. Now look into the carb and you will see two gold screws, remove them. WHEN REMOVING THE SCREW HOLD THE CARB UPSIDE DOWN BECAUSE THERE WILL BE SMALL METAL SHAVINGS FROM REMOVING THE SCREW, THIS WAY THEY WON'T END UP IN YOUR ENGINE!
Step 4. Remove the clip (Figure #1) and the rod that attaches to the butterfly will slide right out.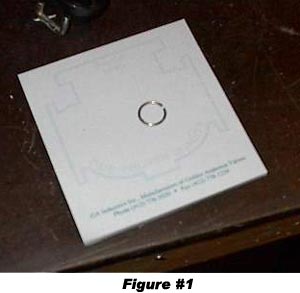 Step 5. The hole pictured in Figure #2 needs to be plugged. Put something over the hole and use a hose clamp to secure it. The hole is plugged in Figure #3.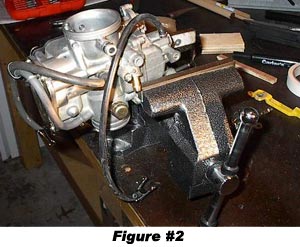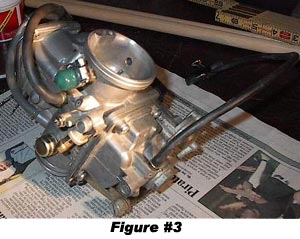 Step 6. Put a 42 pilot in your 400 if you haven't already done so. With the 42 pilot you will not need the choke. Just pump the throttle a few times before you hit the start button, and kind of feather the throttle at first. If you hear any popping' and cracking' or snapping sounds, it means you aren't jetted correctly.
Good luck!