Chainsaw Buyers Guide: ATV / SxS Trail Maintenance Essential Tool
::Continued::
Bar size ranges on the smaller consumer saws run the gamut and can be ordered with 13" to 18" although we feel a 16" bar works very well and allows cutting even a larger size tree out of the trail. Running a larger bar on a small saw just doesn't usually work well enough for us to recommend it.
Keep in mind how big the logs you will be cutting when purchasing a chainsaw this will determine what size bar & power of the chainsaw you will need
For trail clearing duties, power should be sufficient enough to get the job done and most of today's smaller cc saws can handle most usual trail encounters with a fallen tree. A sharp chain (loop) and a small saw can do a ton of work as long as the operator has some idea of how to cut properly. Of course it never fails that you will show up with a 49cc saw and a 30 inch oak will be laying across your intended route! With our Stihl at 45.5 cc's, we have tested it on cuts up to 20 inches with no real problems. While we would opt for a larger saw for such large logs, our intent was to see how well one could saw up a large tree when needed and again, ours passed the test with flying colors.
If you view many of the websites from the manufactures, you will notice a term they use, "Occasional Use". That's Harry Homeowner to you and me, you know, the guys who use there saws for some firewood or clean up around the yard. Our Stihl carries that moniker but we have used ours day in and out for over a year and its purring along just like new.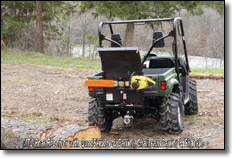 Many chainsaw mounts attach to the rear of the UTV or onto the back of the cab
Most of the difference you will find between a consumer saw and a pro saw relate to items that keep a saw alive through daily use and abuse. How rough you intend to handle your saw may steer you towards a model more apt to take what you can dish out. Bouncing around the cargo area of a SxS or taking the brunt of a roll over on a UTV can do damage, the sturdier your saw the better.

Thankfully, several companies make attachments and mounts to give your saw a ride that keeps it and you safe. Saw manufactures will sometimes include a hard case for your saw that works well in a SxS however valuable storage room can found with a mount that fits your style of use. Pay close attention to where mounts actually get mounted to your chosen vehicle, some will be in your way or only mount in certain areas that could interfere with other accessories.
Montana Jacks makes chainsaw racks that mount to the rear of your ATV
Beyond the saw, make yourself a small tool kit related to just the saw. A properly sized file, a Bar wrench and a non spillable gas can complete with properly mixed gas., and don't forget the bar oil. While the tool kit itself is easily stashed on most any SxS , toting everything on an ATV can require some forethought. Just keep in mind the bouncing around things take on the trail so you don't loose 1/2 of your needed items.
Safety goes without saying, just use common sense and make sure you are up to safely handling a chain saw. Having a log roll on you or having to tend to a severe injury in the middle of nowhere is no fun.
Chainsaw Manufacture Links
ATV & SxS / UTV Attachment & Mounting Links