Safety Gear - Goggles Protection for Your Eyes
"If a man can't see, he can not fight," or so the saying goes; however, for an ATV racer or trail rider, these words could never ring more true. Vision is a priority when it comes to going fast, and goggles not only protect, but in some cases enhance your vision, which will allow you to go as fast as your riding ability will allow.
If a man can't see, he can not fight, which is why goggles should be worn at all times while riding or racing
Even if speed is not your goal, riding at a slow trail pace or when working on the farm, goggles can keep you from having all sorts of issues with your eyes and should be part of everyone's safety equipment. Cruising along at a blistering 20 mph can find you riding blind if dirt or worse impacts your eye. This causes your eye muscles to contract violently as a safety measure to protect your vision. You may think you can deal with it, but you just aren't designed to handle what your body will do regardless of how you want your eyes to react. With that said, a basic, inexpensive set of goggles could be all that stands between you and the possibility of a temporary or permanent eye injury.

There is a goggle made for everyone's taste and budget with prices ranging from the as low as $10 to well over $100 for a top of the line goggles, but regardless of your budget, goggles should be worn at all times while riding as they protect your eye, and if you can't see, you can't ride
Goggles can run the gamut from inexpensive and plain to hyper-expensive and loaded with specific options and colored lenses...are we still talking goggles or buying a car! A quick browse around the local riding area will surely turn up several types of goggles; all performing their basic intended purpose of protecting your eyes. Even if it's just a simple clear goggle, you have choices to make. Several manufactures offer systems for riders that help combat the conditions we face when out on our ATV's and UTV's. There are two main types of "systems" that are rooted deeply in the racing scene, "roll-off's" and "tear-off's", and even a combination of the two.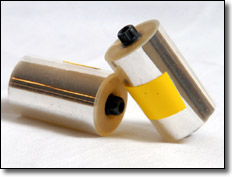 Goggle Roll-Off Film is housed in two cansisters on the sides of the goggles, and a pull of the string advances the roll and provides a clear strip of sight

The roll-off systems utilize a canister of film that is housed in two side compartments mounted to the goggle frame. A simple string is pulled to bring fresh, clear film over the main portion of the lens for better visibility when dirt, dust, and mud coat the lens. This system works extremely well for many people and rates high with racers in most forms of off-road, open-wheel and motorcycle riding/racing. The replacement film is relatively inexpensive and usually is sold in racer packs of 6 or 12, with an average cost of $10 to $19. You even have the option, from Scott USA, to add a roll-off system to several of their goggles if they were purchased without the system. At $36, this could be a great addition for someone looking for the added feature without breaking the bank.

A recent addition to the roll-off system from Scott is the "Mudflap". The Mudflap is a small flap of plastic that the roll-off film slides under at the top of the goggle, which helps prevent mud from entering from the top of the film plane. Roll-off's do work well, but if you get water or mud under that strip of film you will see how difficult riding can be when you are looking through the murky and hazed mess that can be created.
Pro ATV Racer, John Natalie Jr pulls a tear-off from his goggles during a race

Tear-off systems have been around since before Jeremy McGrath was drooling on his bib, and are even used today by law enforcement tactical units and military Special Forces, for the very reason we use them when riding. A quick "tear" off of a preloaded "film cover" gets you back to clear vision, a high priority when sailing over a 70-foot triple or taking down the bad guys. Tear-off's mount to your lens via two small spuds on the goggle lens and are stacked so that the tear-off's can be loaded. A quick pull on the front tear-off will reveal a clean one and then you're back in action. Tear-off's suffer the same fate as roll-off's when water or mud gets between the layers so neither system is foolproof. Tear-off's can be purchased in either small or large quantities all the way up to 50 packs for those that like to buy big and save a buck or two. One note on the tear-off's themselves is that they are not biodegradable and many tracks around the country are limiting their use as they litter the track and pit areas and cause somewhat of a pain in the rear for track personnel to clean up.