Chandler, AZ (4/20/2018) - Weller Racing's Corry Weller, Jason Weller, Brock Heger, and Paul O'Brien all recorded excellent results during the UTV racing season opener for the Lucas Oil Off Road Racing Series. The event was held at Wild Horse Pass Motorsports Park in Chandler, AZ.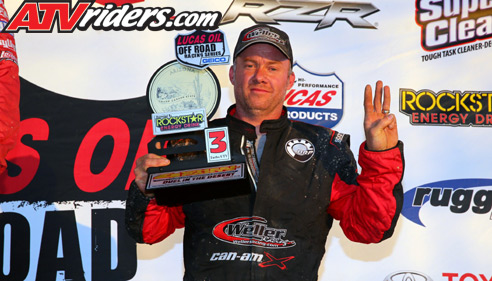 Weller Racing's Paul O'Brien scored two podiums in the Lucas Oil Off Road Racing Series opener with a 2nd Place in UTV Production along with a 3rd Place in UTV Turbo
O'Brien finished second in Production UTV and third in Turbo Production UTV. Heger, the defending champion, was third in Production, Jason Weller finished sixth in Production UTV while his wife, Corry, was fifth in Turbo. The team is running Yamaha YXZ 1000s in Production, and Can-Am Maverick X3 Turbos in the Turbo class.
O'Brien ran both classes and had the distinction of earning podiums for two different manufacturers. The unique arrangement was made because Yamaha doesn't product a production turbo UTV.
"There were a lot of chances out there to pass, so I stayed cautious and just worked my way to the front," said O'Brien. "You have to be smart out there or you can get into trouble really quickly. Weller Racing is my whole backing. They really put in the time in my car. Both manufacturers make a top-level car and I'm very appreciative of that."
Heger started 10th in the Production race, and made his way through the field to finish third. The podium puts him good position early in the season to chase his second consecutive title.
"It feels good to get a podium right out of the gate; we're off to a good start and we just have to fine tune it a little bit," said Heger. "We're coming. It's going to be a good year."
Corry and Jason Weller are running Turbo Production and Production, respectively. Each of them acts as a spotter for the other while they're running in their respective classes and they rely on each other for setup advice. In Turbo, Corry Weller cut down a tire due to contact on the second lap, but due to the durability of both the Maxxis tire and Speedline wheel, she finished fifth.
"The Can-Am did so awesome that I was still pulling people with three tires," said Corry Weller. "What amazed me were the sidewalls on these Maxxis Ceros tires. That tire is flat as a pancake and it never even shredded the sidewall. I ran 10 laps on that so kudos for that tire holding up. The Raceline wheel also held up to a lot of abuse today. I've run them for years and I've never had a problem."
In Production, Jason Weller finished sixth. The result was especially important to Weller because it broke a string of rotten luck in the regional races leading up the event.
"I've had a lot of bad luck in the regionals before this race so I came in here with a little trepidation," said Jason Weller. "I bought a brand-new car and it made it through with no problems. I finally got that monkey off of my back."
The Weller Racing team will be back in action as the Lucas Oil Series heads next to the Estero Beach Resort in Ensenada, Mexico. That race is scheduled for May 19-20.
"We never had a problem and the car held up really well," said Weller. "The guys in the shop did a great job prepping the car for us. It's awesome when you can have a race like this."
While many other competitors had wheel and tire problems, Weller's Maxxis Tires on Raceline Wheels were perfect all day. Weller remarked on having not flats during the race, saying it was a key part of her successful run.
"The Maxxis Liberty tires have been rock stars for us a couple of years now," said Weller. "I love having them on there and we don't even need that spare. You can't get anywhere without good wheels and tires and Maxxis and Raceline is the best package out there."
Weller Racing's Corry and Jason Weller are now switching gears this coming weekend for the Lucas Oil Off Road Racing Series opening round on Saturday, April 14th, at Wild Horse Pass, and she will return to Best in the Desert Series later this season, likely at the Vegas to Reno event being held August 15-18th.
2018 Weller Racing Sponsors:
Yamaha Motor USA, Can-Am, Dragonfire Racing, Full Throttle Battery, Demon Powersports, Maxxis Tires, Axia Alloys, PAC Racing Springs, Raceline Wheels, Factory UTV, SPARCO USA, Lucas Oil Racing TV, Lucas Oil Racing Products, AIM Sports, Tubeworks, Action Sports Canopies, Lazer Star Lights, AZ Drive Shaft, XTC, Powersports, Weller Racing, LLC