Root River Racing's Daytona Pro ATV MX Report
Root River Racing Pro ATV MX Race Report
La Crosse, WI (3/18/2018) - Root River Racing's Pro ATV Motocross rider Dylan Tremellen continued where he left off in 2017 and put in a competitive ride at the Daytona Supercross. The event, held at Daytona International Speedway in Florida, was the opening round of the 2018 AMA ATV Motocross National Championship.
Tremellen is the team's only Pro racer this year and he will work directly with mechanic Doug Schiltz. Tremellen has several new sponsors this season, led by Rage ATV engines. The more powerful engine took Tremellen some time to get used to, and he was happy to have a good tune on his Motowoz shocks.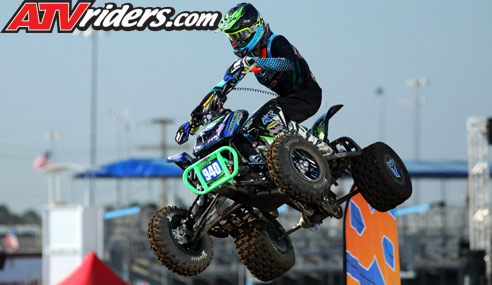 Root River Racing's Dylan Tremellen
"It's working out really well and the bike just handles phenomenally," said Tremellen. "Motowoz has came up with some nice tweaks over the winter and it's coming together much quicker than before."
Outfitted in custom Canvas MX gear, with EKS goggles, and Deft Family gloves, Tremellen also has several new components on his Honda. This year his ride features a JB Lowering Kit, Beringer Brakes and Precision handlebar clamps, and his helmet, bike and trailer are stickered up in FTR decals.
"We're trying to mix things up a little bit and we're doing things a little differently," said Tremellen. "All of the Canvas MX gear is custom printed with all of our sponsors. It's holding up great so far, it's comfortable, and lightweight. FTR did our custom sticker kit. The helmets turned out awesome this year. They come up with some awesome stuff."
The event featured a single heat, single moto format and the course was tighter and more technical than year's past. The biggest change to the track was the hairpin start turn that definitely challenged the field. Tremellen, still stiff from a crash a week before during practice, finished fifth in his heat and ninth in the main.
"My body was sore, but the race went pretty well," said Tremellen. "I wanted to be in the top 10 and I did that. We'll build from here. I have to learn how to corner again because the bike is a lot different. I had to learn to hold onto the motor because of the additional power."
Root River's amateur racers, including Aaron Salinas and Ty Svob, will join Tremellen at the next race. Logan Tremellen is still recovering from an illness so he will miss that race. Alex Gillette has school commitments and will be at the race as a spectator. "It'll be nice to have the rest of the team there to cheer everyone on," said Tremellen.
Tremellen and the rest of the Root River team will be ready for action at the ATV Motocross Series heads to South of the Border in Hamer, SC March 24-25.