Mesa, AZ (6/28/2018) - R-N-R Steel Racing's Robert VanBeekum unveiled his brand new Polaris RZR XP Turbo S and competed in a tough and muddy Lucas Oil Off Road Series UTV Turbo race at Lucas Oil Speedway in Wheatland, MO. VanBeekum defied the odds and finished 12th in the event, despite experiencing visibility issues all race.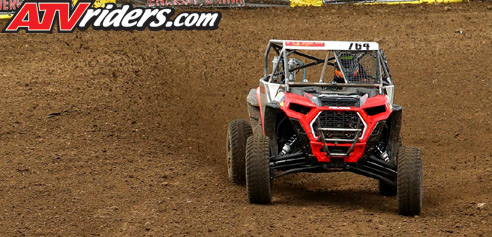 R-N-R Steel's Robert Vanbeekum was the first racer to debut the Polaris RZR XP Turbo S in the LOORRS at Lucas Oil Speedway
Heavy rain inundated the 1.2-mile track on Sunday, turning the racing surface to sloppy mud. Despite calls to cancel the race, officials ran the Turbo class final first, making for what turned into a battle for survival more than a race.
"I can't believe they put us out there on that track," said VanBeekum. "It was bad. It would have been fine if I could see. I went through all of my tear-offs on the first lap. I've never been covered with mud so bad in my life."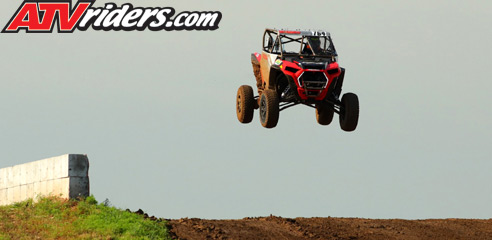 Walker Evans Racing's Robert Vanbeekum was launching the big tabletop at the Lucas Oil Speedway
The new RZR XP Turbo S was just finished prior to leaving for the event. VanBeekum worked through teething issues with radiator placement on Friday and Saturday.
"The car handled great," said VanBeekum. "We had overheating issues in practice and we experienced power steering issues during Saturday's race. We relocated the radiator for Sunday. The car was running absolutely perfectly, but then we got all of this rain and that made for a difficult run."
Robert Vanbeekum relocated his radiator for Sunday's race, but he still has some more testing to do before the Reno, NV race next month
The track, which featured nine turns, some nice rhythm sections and a huge tabletop jump, definitely favored driving skill over horsepower. VanBeekum appreciated the "driver's track" and hopes to return during more favorable weather conditions.
"This track was definitely good for the Polaris," said VanBeekum. "It wasn't about horsepower, but more about driving. It was an unbelievably fun track and there was a huge crowd there, which was nice."
VanBeekum is already at the drawing board working on the cooling system issues. He said the car will be ready when the series heads to Nevada in July.
"We'll go with a larger radiator to increase the cooling system capacity," said VanBeekum. "We're racing in a Utah regional on July 4th, and that will be a good test. That should get us ready for the next event."
VanBeekum will be back in action as the LOORRS Series next heads to Wild West Motorsports Park in Sparks, NV July 21.
Robert VanBeekum's 2018 Sponsors:
Polaris, Maxxis Tires, Walker Evans, DragonFire, Method Wheels, R-N-R Steel, LSR Racing, Rugged Radios, Xtreme Machine & Fabrication, Muzzy