Glendale, AZ (5/22/2018) - Paul O'Brien scored a victory and a runner-up finish during the Lucas Oil Off Road Racing Series UTV doubleheader at Estero Beach Resort in Ensenada, Mexico. O'Brien was competing in the UTV Production Turbo Class, driving a Can-Am Maverick X3. He also raced in the UTV Production Class driving a Yamaha YXZ 1000R, scoring a sixth-place finish on Saturday.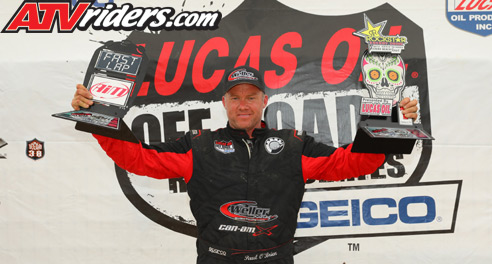 Weller Racing's Paul O'Brien scored two podiums in the Lucas Oil Off Road Racing Series with a win on Saturday in the Turbo UTV class followed by a 2nd place on Sunday in the Can-Am Maverick X3
O'Brien and Weller Racing teammate Corry Weller were unstoppable in the Turbo class races. In Saturday's event, O'Brien and Weller swapped the lead several times before he finished second. In Sunday's race, O'Brien took the top spot at the end. O'Brien is now the only driver to finish on the podium in all three races and holds the lead in the points chase.
"I got the monkey off my back," said O'Brien after winning his first race of the season. "Corry and I are so close on speed; every time I go faster, she goes faster and every time she goes faster, I go faster. This is great for Can-Am. Polaris has dominated this series for so long and now Can-Am has a presence here. The cars are great."
O'Brien particularly enjoyed racing in Mexico. The local fans are known for their exuberance and they showed it. O'Brien was spurred on by their excitement.
"I love coming down to Mexico to race," said O'Brien. "I love the crowd participation and I've never seen such a long line of hands down the fence waiting for high fives. This is really one of the most fun races we do."
In Saturday's UTV Pro Production race, O'Brien qualified first and was battle in the pack when he attempted to modify his line in the difficult rhythm section of the track. His car caught a groove and he flipped. He was unhurt in the crash. He finished sixth in Sunday's race.
"On the second lap, I got a little sideways in the rollers and went to the back," said O'Brien. "I got back up to sixth, went into the rollers with Mickey Thomas. He got a little sideways and I tried to change my line a little bit. That was the kiss of death. The car went sideways and rolled over."
O'Brien will return to the track when the series holds its next race at Lucas Oil Speedway in Wheatland, MO. The doubleheader event is scheduled for June 23-24.
Special thanks to Paul O'Brien's 2018 Sponsors:
Weller Racing, AIM Sports, DWT Wheels, Lucas Oil Products, Eibach, AEO Powersports, Specialty Coatings, CT Race Worx, LG1 Designs, Elite Raceworx, Streamline Brakes, Cylex Signs