Nine6Nine Motorsports' Myers, Stanfield and Wuellenweber Each Score Victories at Sunset Ridge
Nine6Nine Sunset Ridge ATV Motocross Race Report
McKenzie, TN (6/20/2018) – Nine6Nine Motorsports' Alan Myers, Logan Stanfield, and Cole Wuellenweber each scored victories during the AMA ATV Motocross National Championship races at Sunset Ridge MX. The events were held on the sandy soil of Walnut, IL.
With temperatures in closing in on triple digits on the wide-open and sandy track, many competitors were suffering from the heat. Because their training facility is located in Western Tennessee, the Nine6Nine squad was prepared for the weather and it showed.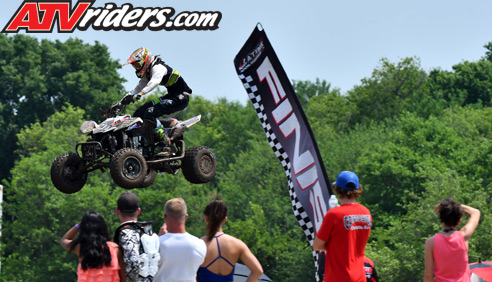 #24 Alan Myers
Myers swept the Pro Sport class, going 1-1 in the motos for the overall win. He started fourth in both motos before taking the lead early and running consistent laps to score the victories. He also competed in the Pro-Am class, scoring 1-2 in the motos to finish second. Amazingly, Myers was competing in his first full racing weekend since he was injured in round three.
"Heat was definitely a factor, but we've been training in the heat so I had an advantage," said Myers. "I had a lot of fun at the track and did really well. I am super excited because that was my first win since my wreck in Texas. I ran the new Maxxis Razr Plus tires and they were absolutely awesome. My Elka Suspension was amazing in the rough sand thanks to Jay Gobel and Impact Solutions. The Walsh Hybrid was running perfect all weekend. Travis has been a huge help in progressing every year."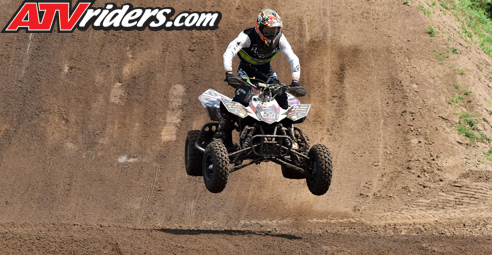 #55 Logan Stanfield
Stanfield went 2-1 in 450A to score the overall victory. Stanfield's fourth win of the season allowed him to pad his points lead and he now holds a nine-point gap, which should allow him to clinch the title with a win at the next race. Stanfield also competed in Pro Sport where he finished fifth overall on the merit of a 3-6 in the motos.
"The new Maxxis Razr Plus tires are amazing," said Stanfield. "They hooked up really nicely on the sand. The track got really rough and the Elka Suspension soaked up everything. I'm pretty excited about the next race."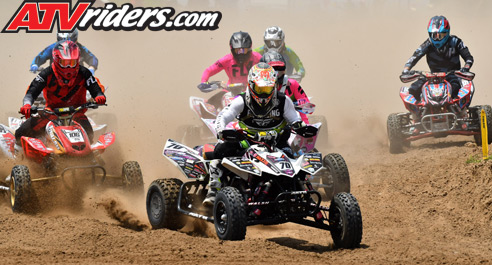 #70 Cole Wuellenweber
Wuellenweber swept the Open C motos for his third victory of the season. The win moves him into an impressive 49-point lead in the title chase. Wuellenweber also finished second in 450C after going 1-2 in the motos.
"I felt pretty comfortable on the track and I rode well," said Wuellenweber. "I pulled every single holeshot, and the bike worked perfectly all weekend. The track was really fun. It had bigger jumps and I liked how rough it got."
#70 Cole Wuellenweber
Nine6Nine Motorsports will be back in action when the AMA ATV Motocross National Championship heads to Unadilla MX in New Berlin, NY. That race is scheduled for July 7-8, 2018.
2018 Nine6Nine Race Team Sponsors
Maxxis, Elka, Barkers, Goldspeed, FLY Racing, Hinson, Suomy, Rath, Galfer, SSI, BCC skids, Impact Solutions, Works Connection, Scott, Atlas, AMPed, Pro Taper, Impact Canopy, Philadelphia Cycle Center, Aces Piizza, TMM, Napa, Finishing Edge, Blue's Landing, Austin's Wish, ATVriders.com