Nine6Nine Motorsports' Logan Stanfield & Cole Wuellenweber Score Four Victories at Ironman MX
Nine6Nine Ironman MX ATV Motocross Race Report
McKenzie, TN (5/14/2018) – Nine6Nine Motorsports' Logan Stanfield scored his second consecutive victory in the Pro Sport class, and swept both motos in 450 A during the AMA ATV Motocross National Championship race at Ironman Raceway in Crawfordsville, IN. Cole Wuellenweber padded his Open C points lead with his second victory of the season and also won the 450 C race.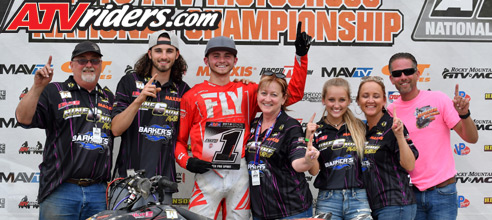 #55 Logan Stanfield scored his 2nd straigth Pro Sport Win & he also took the 450A class win at the Ironman MX
Stanfield ran third for most of the first moto and finished in the third spot. In the second moto, he pulled the holeshot and led every lap. The 3-1 handed him the overall victory, his second in a row. In 450 A, he pulled the holeshot in both motos and led every lap to sweep the class.
#55 Logan Stanfield
"I was pretty pumped," said Stanfield. "I've been working really hard to make improvements and it's paying off. The bike handled amazing. The track got slick, but the Maxxis Tires were hooking up and the Elka shocks helped smooth out the rollers."
In Open C, Wuellenweber won the first moto after leading every lap and finished second in the second race to score first overall. In the 450 C race, he went 2-1 to net the overall victory, taking the total wins on the weekend for Nine6Nine Motorsports to four.
#70 Cole Wuellenweber scored both the Open C & 450C class wins
"My Elka Suspension worked really well because the track really go beat up in a couple of areas," said Wuellenweber. "My Maxxis Tires hooked up great and the whole Walsh setup was phenomenal. Travis really makes us push and I've been training really hard."
Team manager Travis Moore was pleased at the success of his two riders. He sees exceptional growth in both Stanfield and Wuellenweber.
"We stepped Cole into the 450C class because I really wanted him to fight more and be hungry," said Moore. "He definitely rose to the occasion, won three motos and won two overall races. Logan stepped up tremendously and rode very maturely and smoothly."
Alan Myers, who is still recovering from injuries, rode the Pro-Am race for points. He is expected to return full strength at the next race. Zack Decker is still recovering from an injury sustained early this season.
Nine6Nine Motorsports will be back in action when the AMA ATV Motocross National Championship heads to Mount Morris, PA for the next round of competition at High Point Raceway May 19-20.
2018 Nine6Nine Race Team Sponsors
Maxxis, Elka, Barkers, Goldspeed, FLY Racing, Hinson, Suomy, Rath, Galfer, SSI, BCC skids, Impact Solutions, Works Connection, Scott, Atlas, AMPed, Pro Taper, Impact Canopy, Philadelphia Cycle Center, Aces Piizza, TMM, Napa, Finishing Edge, Blue's Landing, Austin's Wish, ATVriders.com