Nine6Nine Motorsports Records Another Three-Wins
Nine6Nine South of the Border ATV Motocross Race Report
McKenzie, TN (4/4/2018) – Nine6Nine Motorsports riders Alan Myers and Logan Stanfield scored a total of three victories during the AMA ATV Motocross National Championship races at South of the Border MX in Hamer, SC. Teammates Cole Wuellenweber and Zack Decker also turned in competitive results.
#24 Alan Myers Scores Two Wins at South of the Border ATV MX
Myers had a great weekend, scoring overall victories in both Pro-Am and Pro Sport. He went 1-1 in Pro Am and 2-1 in Pro Sport after snagging three holeshots in the two classes.
"To get two overall wins, especially a sweep in Pro-Am, is awesome," said Myers. "My Elka suspension was working great. The first Pro-Am moto was super muddy and the Maxxis Tires had great traction. The track was tight and technical so it really suited my style. The starts helped me out a ton today. Getting out front was key. I was able to charge the jumps, so that was also really helpful."
#24 Alan Myers & #55 Logan Stanfield
Stanfield swept the 450A class. After starting third in the first moto, he charged to the lead on the first lap. In the second moto, he got the holeshot and was never seriously challenged.
"The Maxxis Tires worked awesome," said Stanfield. "We lowered the tire pressure a little bit and they hooked up amazing. The Elka suspension got me around the track quickly. The new Walsh Racecraft bike is my favorite ever. It handles amazing and is super fast."
#55 Logan Stanfield
Wuellenweber tried to make the best out of a tough weekend. He finished second in the first Open C moto, but a crash took him out of the second moto. In College 16-24 he finished seventh overall.
"Honestly, it was a difficult weekend for us," said Wuellenweber. "In the second Open C moto, I flipped and it threw off my whole weekend. I'm OK, but I was just mad about it. I was two seconds faster than everyone else in the Open C class. The Maxxis Tires hooked up really well. I had traction the entire time."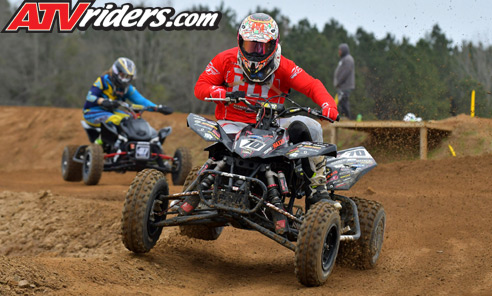 #70 Cole Wuellenweber
Decker made his 2018 debut, and he scored a third-place finish in Schoolboy Sr. and just missed the podium, finishing fourth in Youth All Stars. The tight and technical nature of the track didn't suit Decker's riding style, but he was glad to get the year started out with consistent results.
"This wasn't really my type of track, but it was nice to start out the year," said Decker. "My Walsh Racecraft KTM worked really well. The Elka suspension worked great and I had traction everywhere with the Maxxis Tires. I'm looking forward to Texas. Every year I've raced there I've won at least one of my classes."
Team Manager, Moore, was really happy with his team's performance at South of the Border. "The Nine6Nine Motorsports Team scored three wins, and everyone keeps improving with each passing race, so we are looking forward to heading to the sandy track in Texas, since it is very similar to what we have been practicing on over the winter, so we are looking to have another successful weekend of racing," said Moore.
Nine6Nine Motorsports will return to action when the AMA ATV Motocross National Championship heads to Underground MX in Kemp, TX April 14-15.
2018 Nine6Nine Race Team Sponsors
Maxxis, Elka, Barkers, Goldspeed, FLY Racing, Hinson, Suomy, Rath, Galfer, SSI, BCC skids, Impact Solutions, Works Connection, Scott, Atlas, AMPed, Pro Taper, Impact Canopy, Philadelphia Cycle Center, Aces Piizza, TMM, Napa, Finishing Edge, Blue's Landing, Austin's Wish, ATVriders.com