Monroe, NC (6/22/2018) - Mills3 Racing with father and son driving team Chris and Payton Mills returned to Crandon International Raceway and had a competitive opening weekend to the Lucas Oil Midwest Short Course League. The Mills are competing in the SXS Pro Stock and Pro Modified classes, driving Yamaha YXZ 1000Rs.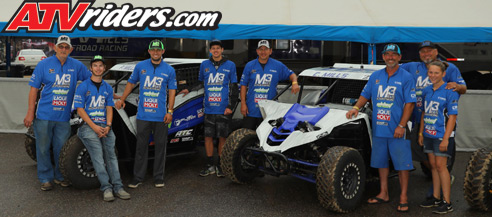 Mills3 Offroad Racing Team is back in force for the 2018 Lucas Oil Midwest Short Course League
The doubleheader event was held at the fast and legendary Crandon course. Known for its high speed and technical corners, unfortunately the weather didn't cooperate and heavy rain canceled qualifying and practice and played chaos with the races on Saturday.
Mills3 Offroad Racing Team Canopy was put to work with heavy rain & wind through out the weekend at Crandon
Payton and Chris Mills swapped classes this year with Chris running Pro Stock and Payton competing in Pro Modified. Payton Mills had issues with visibility during a mud fest of a race on Saturday, and he had mechanical issues slow his charge on Sunday.
Mills3 Racing's Payton Mills
"It was definitely a crazy weekend," said Payton Mills. "The weather played a huge factor and everyone going straight into racing on Saturday definitely threw everyone for a loop. We dealt with what we had. The cars are handling great and once we work out a few little bugs, we'll definitely be at the front of the pack."
Chris Mills suffered through a Pro Stock race on Saturday that looked more like a mud bog event, and he was running strong on Sunday when a mechanical issue took him out of contention. He took the bad luck in stride and is already looking forward to the next race.
Mills3 Racing's Chris Mills
"My car was running great, but I just had some bad luck," said Chris Mills. "When my car was running well, I was running everyone down. I really feel better about the team this year."
Both drivers are running Fuel Tires and Wheels this year. Payton Mills appreciated the tires' predictability and their ability to provide superior grip no matter the conditions.
"Given the conditions from mud to dust, the Fuel Tires and Wheels were the best setup out there," said Payton Mills. "The tires hook up no matter what the conditions and they gave me confidence during the races. They give us trackside support and they are amazing to work with. We're super thankful for all that they do for us."
Mills3 Racing's Payton Mills
Chris Mills echoed his son's comments about Fuel Tires and Wheels. The team has now run Fuel Tires on just about every racing surface with success and the wheels have proven to be the toughest out there.
"The Fuel Tires will be the tires to run this year," said Chris Mills. "They have good tread that works on all kinds of terrain. We have run them this year on asphalt, in the mud, and on dry blue groove and they hooked up great. I saw quite a few wheel failures at this race, but our Fuel Wheels had no issues."
Mills3 Racing's Chris Mills
With sloppy conditions robbing the team of visibility on Saturday, radio communication was key. The team's Rugged Radios performed flawlessly allowing drivers to communicate clearly with spotters.
"Our radios worked like a champ this weekend," said Chris Mills. "I can't thank Dan enough for everything he does for the team with Rugged Radios and All Terrain Communications."
The team is also sponsored by LIQUI MOLY, which takes care of all of the team's lubricant needs. While many teams were having brake problems during the weekend, LIQUI MOLY's Brake Fluid Race helped the team keep its cool in the braking zones.
"Liquimoly's brake fluid is second to none," said Chris Mills. "We saw many teams have brake problems during the weekend and we had none. The fluid definitely kept its cool."
Mills3 Racing will return to Midwest Short Course League competition when the series heads to ERX Motor Park in Elk River, MN July 13-14.
Special Thanks to Mills3 Racing Sponsors:
Fuel Off Road, Liqui Moly, Powersports1, ATVRiders.com, Studio 10 Graphics, All Terrain Communication, Rugged Radios, Beyond Redline, Owen Motorsports, Risq Threads, K1 Racegear, Greaves Motorsports, FTI Suspension, CPS Trucking, Yamaha, RevUp Graphics, WebCams, Pearson Archery