Sam Rowe Finishes Career-Best Fifth at Sunset Ridge MX
Kyler Lenz Motorsports / Amped Apparel ATV MX Race Report
Deforest, WI (6/20/2018) – Kyler Lenz Motorsports/Amped Apparel Honda Pro rider Sam Rowe finished a career best fifth during the AMA Pro ATV Motocross National Championship race at Sunset Ridge MX in Walnut, IL.
Rowe qualified sixth and ripped off two great starts in the motos. He went 6-5 to score the fifth-place overall in what was likely the hottest racing weekend in recent memory. With bad luck striking at several races this season, Rowe finally caught a break and he showed just how fast and competitive he can ride.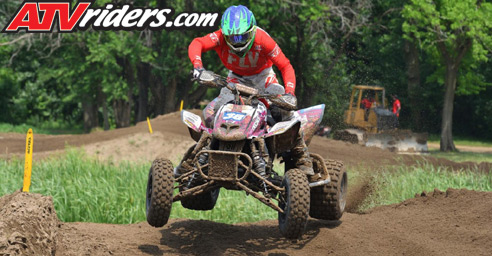 #38 Sam Rowe
"I've been working hard lately with Joel Hetrick and it's paying off," said Rowe. "Working with the champion is a good idea. I felt like I could have done this a couple of times earlier this year, but luck just wasn't on my side. Now I'm going to look to keep it there."
Rowe's Honda was outfitted with Motowoz shocks and he was running Maxxis' new RAZR Plus tires. The combination worked perfectly for him at the start of the two motos. He started fourth in the first moto and second in the second moto.
"The whole combination was working well this weekend," said Rowe. "The Motowoz shocks were on point. We made a couple of minor changes, but nothing huge. I was running the new Maxxis RAZR Plus tires and I liked them a lot. They are much more consistent and you always know what they're going to do every time. The bike was awesome."
#38 Sam Rowe
Heat indexes in the triple digits didn't make it easy for Rowe or any of the other competitors. Rowe, however, did everything he could. He wasn't going to be denied this weekend.
"It was super hot and it was tough, but I gave it my all," said Rowe. "After both motos, I was laying in my camper in the AC to try to recover. I can't remember when it was that hot."
He also wanted to thank his father for wrenching on his bike in the heat to ensure everything was perfect during the weekend. His dad was rewarded with a top five finish for Father's Day.
"I really want to thank my dad," said Rowe. "He worked his tail off all day in the heat. He didn't get finished until after 5 p.m. He really made it happen for me."
Rowe and his Kyler Lenz Motorsports team next head to Unadilla MX in New Berlin, NY for the next race, scheduled for July 7-8.
Sam Rowe would like to thank his 2018 sponsors:
Amped Apparel, SSI Decals, Root River, Motowoz, JH Racing, Rath Racing, Napa, DT-1, DP Brakes, Sunstar, DWT, Pivotworks, Fly USA, FourWerx Carbon, Yoshimura, JB Racing, Trimbles Cycle, Evans Coolant, Hinson, Midwest Wheelchair Ramp, Maxxis, Kyler Lenz Motorsports, Jeff Rastrelli Land Grading