Kyler Lenz Motorsports Team Underground MX Report
Kyler Lenz Motorsports / Amped Apparel ATV MX Race Report
Deforest, WI (4/23/2018) – For the second consecutive AMA ATV Motocross National Championship race, Kyler Lenz Motorsports/Amped Apparel rider Nick Moser swept the motos in the 25+ class and scored the overall victory. Sam Rowe finished 15th in the Pro class. The races were held at Underground MX in Kemp, TX.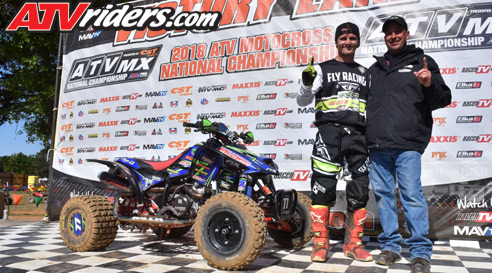 #77 Nick Moser & Kevin Lenz
Nick Moser started eighth in the first moto, but was quickly in the lead and took the victory. In moto two, Moser took the holeshot and led every lap. It marked another sweep for Moser and his third consecutive victory in the class. He now leads the championship by 31 points.
"The Honda was awesome this weekend," said Moser. "My PEP suspension was better than ever after I made a few adjustments in practice. The Hetrick Racing engine was ripping all weekend and the Maxxis tires were really hooking up. Three wins in three rounds feels great. I can't wait to get home and start training to make it a little easier on myself. I'm going to work a lot harder and come out even better at the next round."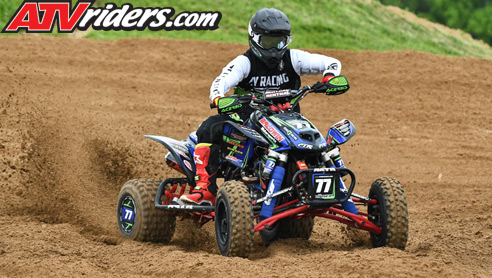 #77 Nick Moser
The event was a memorial race to celebrate the lives of riders who lost their lives. That made it even more special for Moser and his team, named for Kyler Lenz, who passed away last year.
"It was a very emotional weekend for the whole Kyler Lenz team," said Moser. "It meant a lot to Kevin and Nicole and reminded me of the circumstances of why I'm racing here. For me to come out and have success was really special."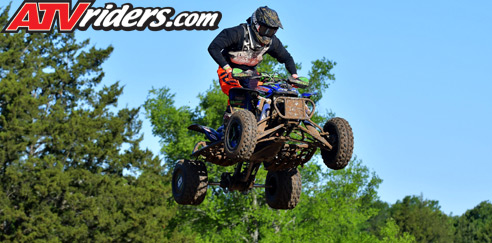 Korie Richmond
Kevin Lenz explained that teamwork and overcoming adversity made the weekend special for him. Moser was nearly killed in a crash several years ago and Korie Richmond left the sport after Kyler's accident, but he made his return this weekend at Underground MX.
"To come back from his crash and ride for us and for Kyler, and all of the fear Nick has to get through, is special," said Kevin Lenz. "We all worked together and it meant so much for all of us. All of us were riding for Kyler and I'm so proud of this team for overcoming adversity and we won."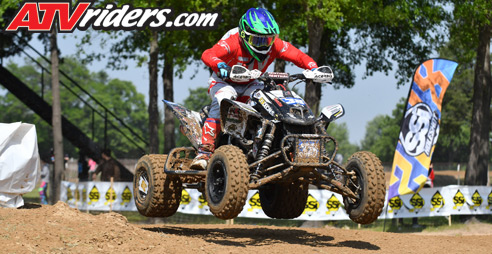 #38 Sam Rowe
Sam Rowe finished ninth in the first Pro moto. He was running strong in the second moto, but an engine issue took him out of contention. Rowe is not going to let the bad luck he's had get him down.
"It was just a freak thing," said Rowe. "I've just had bad luck this year. I felt good on the bike and I was riding well. I'm just a little off the speed of being in the top five, so I'm going to keep working. My luck will turn around."
Kyler Lenz Motorsports heads next to Ironman Raceway in Crawfordsville, IN May 5-6 for round four of the championship.
Kyler Lenz Motorsports would like to thank its 2018 sponsors:
Amped Apparel, PEP, Maxxis Tires, Baldwin, Fly Racing, Hinson Clutches, Bell Helmets, MadCity Powersports, Rath Racing, Six5Design, FourWerx Carbon, Renthal, JSRMotodesigns, Hetrick Racing, FTR Powersports, Troy Lee Designs, DP Brakes, Beringer Brakes, DWT, SunStar, Maximum Oils, SSi Decals, JB Racing
Sam Rowe would like to thank his 2018 sponsors:
Amped Apparel, SSI Decals, Root River, Motowoz, JH Racing, Rath Racing, Napa, DT-1, DP Brakes, Sunstar, DWT, Pivotworks, Fly USA, FourWerx Carbon, Yoshimura, JB Racing, Trimbles Cycle, Evans Coolant, Hinson, Midwest Wheelchair Ramp, Maxxis, Kyler Lenz Motorsports, Jeff Rastrelli Land Grading