Casper, WY (5/24/2018) - Can-Am Driven Powersports' rider Don Higbee teamed up with Adolfo Arellano and Jose Torres on a Can-Am Outlander 1000R and finished third in the Silver State 300. The Best in the Desert Series event was held in the desert and silt beds surrounding Alamo, NV.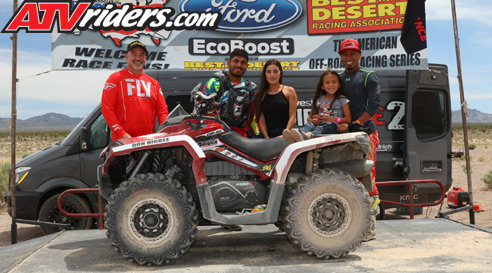 Can-Am / Driven Powersport's Don Higbee along with Adolfo Arellano and Jose Torres finish third at the Silver State 300
Riding the only 4X4 Utility quad in the class, Higbee and his teammates were showing just how fast a Can-Am Outlander runs in the wide-open desert. Torres started the event and was within a minute of the leader when an electrical issue caused an intermittent fault in the bike.
"Jose Torres had a great run and we were less than a minute of the lead," said Higbee. "The Kenda Tires with Tire Spines were excellent in the desert. Airdam Performance clutching had it clutched right for the elevation. The Can-Am Outlander did really well until about 150 miles in when a freak issue caused the bike to intermittently cut out. It wasn't worth it to diagnose in the pits, but we did lose about 30 minutes due to the issue."
In addition, the team lost a chase truck to mechanical issues prior to the race. In true racer style, they adapted, improvised and overcame and ran a crew out of a rental truck for the event.
"It was a rough weekend," said Higbee. "We had to run with a skeleton crew out of a U-Haul. We put our heads down and left everything on the track."
Higbee still has a chance at the championship. The BITD ATV season finale is several months away and he'll be ready with a fresh bike and a continued positive and competitive attitude.
"We've shown that we have the speed to run up front and we're hoping to get rid of the bad luck," said Higbee. "We'll have a fresh bike and we still have a shot at pulling off the championship."
Higbee will return to BITD competition for the final ATV race of the 2018 calendar during the Vegas to Reno race, scheduled for August 15-18.
Driven Powersports Racing 2018 Sponsors:
Can Am, Driven Powersports, Custom Axis, Tucker Rocky, Dirtworks, Tire Spines, David Jesse Racing, OMF, Dirtworks, Kenda, DP Brakes, Evans Coolant, Team JDR, Airdam Clutches, Spider Graphix, Cecco Racing