Bakersfield, CA (6/1/2018) - H&M Motorsports' David Haagsma fought minor mechanical problems to finish sixth in the WORCS SXS Pro race at Iron Mine Race Park in Cedar City, UT. Though he missed the podium for the first time since the season opener, Haagsma is going into the summer break with the points lead.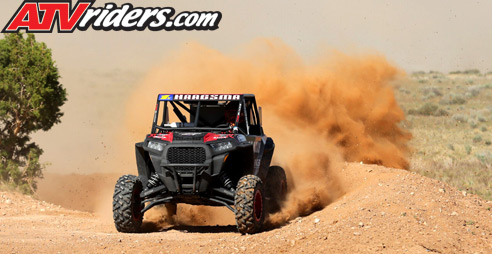 H&M Motorsports' David Haagsma finishes sixth at Iron Mine WORCS
The circuit comprised Iron Mine's big air motocross track with several off-road sections and an enduro section with logs and tires. The racing surface varied from dry and dusty to muddy in some sections.
Haagsma started third in the race and was running for another podium when the first of several small problems cropped up in his car. Haagsma wisely slowed his pace to preserve the car and ensure a finish.
"We a couple of issues during the race that held us back, so I just hung back and finished the best I could to salvage some points," said Haagsma. "I wanted to make sure we could battle our way to the end for the championship. It's part of racing. Everyone has issues and this was just my round to have things go wrong. I have never had good luck at Cedar City and that continued this weekend."
One thing that stood out to Haagsma was the reliable grip provided by his Maxxis tires. With the full gamut of different track surfaces showing up during the race, he appreciated the tires' ability to work in all conditions.
"The Maxxis Tires were great," said Haagsma. "It was very tricky this race because it was dry and slick, then big puddles of mud, and then silt. The Maxxis tires worked great in all of these conditions. The car definitely had potential. We just didn't have luck on our side today.
WORCS now heads into its annual summer break. Along with preparing for the final races on the schedule, Haagsma also has life-changing event scheduled: he's getting married.
"I'm getting married, going on the honeymoon, and it will be nice to have some time off," said Haagsma. "We're going into this break to do as much prep as we can. We'll figure out the car for the last four rounds. It should be a battle to the end."
Haagsma will return to the WORCS Series when it gets back underway at Glen Helen Raceway in Devore, CA. That race is scheduled for September 14-16.
H&M Motorsports' 2018 Sponsors:
Maxxis, 51FIFTY, Polaris, H&M Motorsports, HP Dairy, Haagsma Farms, SPARKS Racing, Cognito Motorsports, Tire Blocks, FOX Shocks, Shoei Helmets, K&N Filters, Method Race Wheels, Lusardi Motorsports, Finish Line Signs, The Winning Team Apparel & ATVRiders.com