Bakersfield, CA (2/13/2018) - H&M Motorsports' David Haagsma stayed consistent and scored a top five in the season opening WORCS Series SXS Pro race at The Orleans Arena in Las Vegas. The defending WORCS champion is sporting new sponsorship from Polaris and 51FIFTY Energy Drink in a journey to his third WORCS title.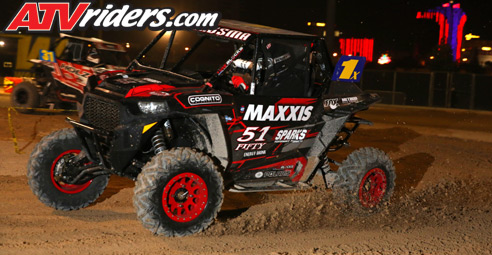 H&M Motorsports' David Haagsma finishes top five at WORCS Season Opener in Las Vegas, NV at The Orleans
The tight course comprised a tough mix of asphalt and dirt racing surfaces, as well as logs, tire barriers, and big air jumps. Haagsma debuted his new Polaris RZR Turbo built by Cognito and outfitted with Fox Shocks and Maxxis Tires.
"We finally brought out the turbo we built for last year and never raced," said Haagsma. "It was brand new and this is the first time I got to drive it. This is definitely not my favorite track, so getting out of here with a top five is great."
Haagmsa has run with Polaris for most of his career, owing to the manufacturer's reliability and speed. He was happy to become a factory-supported racer this season.
"We've always run Polaris cars because they build the best stuff," said Haagsma. " I'm happy to get with them. I'm hoping I can do them proud and give them a championship."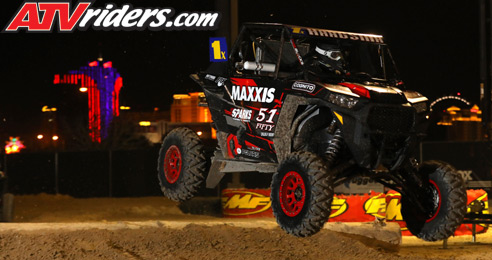 David Haagsma adds 51Fifty Energy Drink to his sponsors list for 2018
Haagsma also brought on 51FIFTY Energy Drink this season. The company has a long history of backing racing efforts, but this marks its first foray into SXS competition. Haagsma is pleased to welcome the non-endemic sponsor to the sport and sees big things going forward.
"51FIFTY has been very helpful and it should be a great relationship," said Haagsma.
With a Sparks Performance Products engine in the Polaris RZR, and the myriad racing surfaces, tires were key to success here. Maxxis Tires outfitted with Tire Blocks gave Haagsma the grip he needed.
"With Sparks and the new turbo, that thing has so much power and the Maxxis Tires were really hooking up," said Haagsma. "The Tire Blocks are great. You can have the confidence to just run into logs and you know the tires will hold up. They make the car bullet proof so I can drive the way I want to."
Haagsma will continue his quest for a third WORCS title as the series next heads to Canyon MX in Peoria, AZ. That race is scheduled for February 23-25.
H&M Motorsports' 2018 Sponsors:
Maxxis, 51FIFTY, Polaris, H&M Motorsports, HP Dairy, Haagsma Farms, SPARKS Racing, Cognito Motorsports, Tire Blocks, FOX Shocks, Shoei Helmets, K&N Filters, Method Race Wheels, Lusardi Motorsports, Finish Line Signs, The Winning Team Apparel & ATVRiders.com