Saint Croix Falls, WI (6/25/2018) – Bikeman Performance with drivers Jason Luburgh and Colten Moore, kicked off the 2018 Lucas Oil Midwest Short Course League SXS racing season at Crandon International Raceway in Wisconsin. Moore and Luburgh are driving the Polaris RZR in the Pro Stock and Pro Mod classes, respectively.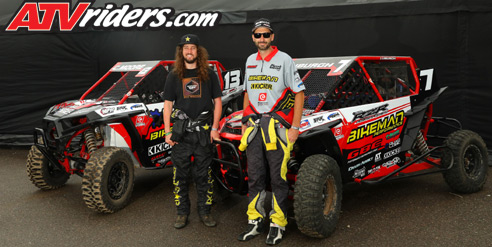 Bikeman Performance's Colten Moore & Jason Luburgh are competing in the 2018 Lucas Oil Midwest Short Course League
Luburgh is driving a brand new Polaris RZR this year. The car was built based off of all of the team's experience during last year's TORC season. It's fast and it handles great.
"The car is great," said Luburgh. "We didn't have the best first race because the weather was terrible, but we have a good handle on the car and I'm confident going into the next round. The car handles better and is much faster."
Bikeman Performance's Jason Luburgh
Heavy rain definitely hampered the team's efforts during the doubleheader weekend. Qualifying was canceled both days due to weather, as were Friday's practice sessions.
At the start of Saturday Pro Stock race the track was inundated, making for muddy conditions that got worse as the race continued. Luburgh was lined up for the Pro Mod race, and wisely withdrew.
"I was on the line and I thought for sure they were going to call it," explained Luburgh. "When I saw only half of the Pro Stock field come off the track under their own power, Jimmy and I decided to withdraw from the race. That's a hard thing for a racer to do, but it was the right call. I didn't want to go out there and ruin our brand new car. A bunch of other people wished they had done the same thing."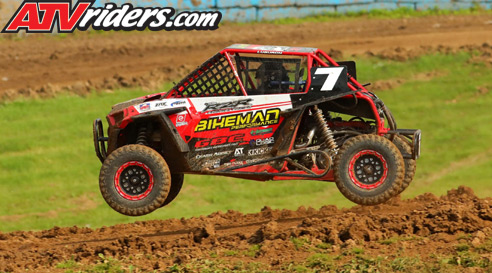 Bikeman Performance's Jason Luburgh
On Sunday, in dry conditions, Luburgh started last and quickly made it up into the top five. He was charging hard before a plugged intercooler slowed his charge.
"I knew I had to get after it," said Luburgh. "I fell in behind Tim Farr and we were going to the front. Then I caught a bunch of roost into my intercooler, which put me into limp mode."
Despite the difficulties of the first race weekend, Luburgh says the team is on another level this year. He is already gunning for the podium at the next race.
"As a whole, the team worked really well," said Luburgh. "I have my sights set on the podium at ERX. We learned a lot this year and I have a lot of confidence in the car, the team, and myself. We have so much time and energy invested in this and I really want to bring home some hardware."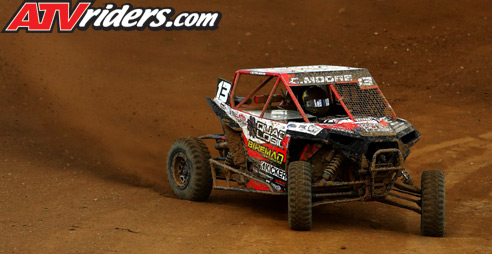 Bikeman Performance's Colten Moore
Despite the obvious visibility issues during Saturday's race, Moore persevered and ran competitive laps. He had a fast car, but roost from the cars in front of him forced him to back down.
"I felt like I could pass people when I could see," said Moore. "After the first lap, I had to run the race with my visor up. Any time I got up to someone to pass, I'd get into their roost and couldn't see and had to slow down."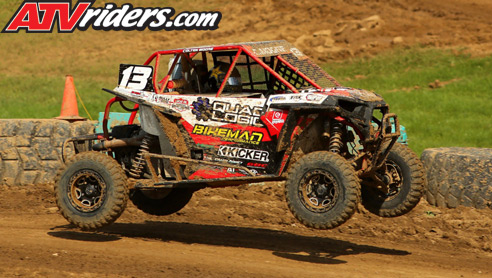 Bikeman Performance's Colten Moore
Moore spent all of the last season recovering from a back injury sustained in a snowmobile race at Winter X Games. After spending that much time on the bench, he was overjoyed to be back racing in his Bikeman/Quad Logic/Kicker Polaris.
"It felt good to be back in the car competing," said Moore. "We have a good team this year and we'll be there when it counts. It put a smile back on my face to be back racing. I've been going crazy. I didn't feel any ill effects in the car from the accident."
The Bikeman Performance/rOtation Motorsports team will be back in action and aiming straight at the podium when the Midwest Short Course League holds its next event at ERX Motor Park in Elk River, MN. That race is scheduled for July 13-14