Moreno Valley, CA (3/1/2018) – BDR Motorsports / Polaris' Larry Heidler competed in the second round of the 2018 WORCS racing championship where he took an eighth place finish at Canyon MX in Peoria, AZ where the racer's enjoyed sixty degree weather and clear skies for a beautiful day of racing.
Heidler enjoyed the track and conditions at Canyon MX, saying, "I expected the course to be rougher, but it didn't seem too bad. It was fast and seemed to run pretty good."
The course seemed especially smooth to Heidler thanks to his top of the line setup on his Polaris. "The Fox shocks soaked it up for me, so there were no problems with that," stated Heidler of the track conditions. The Fox shocks combined with incredible traction from GBC tires and durable Super ATV Rhino axles all contributed to Heidler's successful setup. "It was harsh conditions and a lot of cars were breaking. As much abuse as I put my Rhino axles through they held up all through the race," said Heidler.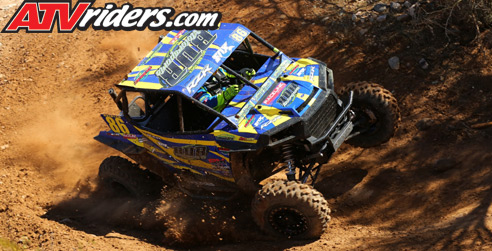 The GBC tires hooked up and shot Heidler into a great position at the start of the race where he grabbed the holeshot and started pulling on the pack. Heidler was running great, but a little mistake cost him. "I made a mental error and forgot to turn on my inner cooler fan, so the turbo started overheating and losing power," explained Heidler. Despite the loss of power, Heidler continued pushing as hard as he could, but coming into a downhill right hand turn Heidler rolled onto his side, costing him valuable time.
Heidler will return to the WORCS series March 16-18 at Lake Havasu, Arizona where his daughter will also be competing in the Women's class. Heidler will be pushing for a podium finish.
Larry Heidler 2018 Sponsors:
BDR Motorsports, FOX Shocks, Polaris, GBC Motorsports, Polaris Engineered Lubricants, Raceline Wheels, Anti Gravity Batteries ,Super ATV, AVI Wraps, NRG Seats, Pro Eagle Jacks, Flow Vision Goggles, Hess Motorsports, K1 Race Gear, Tire Blocks, BAJA Designs, 5150 Whips