Mickey Thomas Shows Speed in Twin Cities TORC
TORC Championship Pro Stock UTV • Round 3 Race Report
Cumming, GA (6/13/2017) - Mickey Thomas qualified third and was running a competitive race before overheating problems sidelined his charge during the TORC Off Road Championship Pro Stock UTV race. The event was held at ERX Motor Park in Elk River, MN.
Despite struggling with cooling issues all weekend, Thomas soldiered on and was in contention early. Taking third at the start, his engine began overheating on lap three and he pulled off. While the team sorted the issues after Saturday's race, Sunday's event was postponed due to severe thunderstorms that caused heavy damage at the track. The second race will be run as part of the season finale in September.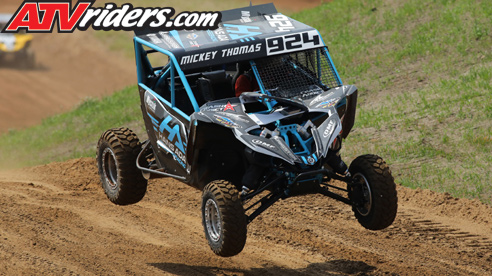 Hans Ada Racing's Mickey Thomas qualified 7th for the Pro Stock UTV Main event
"We were up to third place, but we struggled with overheating issues all weekend," said Thomas. "Hans tried everything and he was busting his butt all weekend. We tried swapping the radiator and standing it up, everything we could think of, but we still had problems today. We think we figured out the issue for Sunday, but we got rained out."
Thomas was pleased with the purpose-built facility. Located just west of Minneapolis, ERX featured three hairpin turns, several big jumps, a split lane section and some challenging whoops.
"It's a fun track," said Thomas. "It's fast and has a lot of hairpin corners that suit the Yamaha really well. I'm just bummed we didn't get to race on Sunday. We just need to put together one race and we'll be up on the podium. We were running the Maxxis Ceros here and they handle anything. They are awesome in dry slick and muddy conditions."
Hans Ada will take over driving at Crandon with Mickey Thomas competing that weekend in Utah at the Lucas Oil Series
Thomas will miss the next TORC event. He is competing in the Lucas Oil Series race in Utah during the Crandon weekend. Hans Ada will drive in the Crandon event, one where Thomas thinks the car will be competitive to the end.
"Hans will be driving the car in Crandon," said Thomas. "We think we have all of the bugs worked out for the next round. He'll race in Crandon, while I'm competing in Pro Lite Truck and in my own UTV in Salt Lake City."
Ada was pleased with what he saw in Thomas' track time. Thomas and Ada are both developing the new Yamaha with an eye on a championship run in 2018.
"This is part of the reality of having a new machine," said Ada. "We had some cooling issues, but everything else is perfect. We have the horsepower, the suspension, and everything is perfect. I was super impressed with Mickey. He only had one lap of experience here and the first lap he was on point."
Ada is looking forward to racing at Crandon. The former F1600 racer and accomplished driving coach is ready to get off the sidelines and into the driver's seat.

"Finally, I'll be in a car," said Ada. "I can't wait. Hopefully, next year, if I take a vacation it will be driving a car. So I'm taking advantage of this opportunity."
With cooling issues behind him, Ada is looking forward to the next round of TORC competition June 24-25 at Crandon International Off-Road Raceway in Wisconsin.
2017 TORC Series Sponsors:
Bikeman Performance Engines. Hans Ada Racing, Langston Motorsports Yamaha, Crash Addict, Walker Evans Racing, OMF Wheels, Andersin Design, Drive Motorsports International