Root River Racing Off Season Motocross Team Update
2017 Root River Racing ATV MX Team Announced
La Crosse, WI (12/26/2016) - Well into the 2016 Off-season and the Root River Race Team and its owner, Rich Gillette, are finally finding time to reflect on this past season as well as to give us a look into the future of the team and what is instore for 2017. New shop, new look and new attitude to name a few things that are changing with the team. Rich said, "It took some serious soul-searching to make some of the hard decisions that needed to be made, but the end result I hope, is a more enjoyable and successful 2017 season."

The team did very well once again this year. What impressed Rich the most about the team's performance is the off-season training. They took their training very seriously. All the riders made dramatic changes with their nutrition, gym workouts and skill training. They came into the season smarter, stronger and healthier than ever.

Noah Mickelson was definitely the super star this year capturing the 450 B and Open B class championships. Right behind Noah was Logan Tremellen pulling in 2nd place finishes in both Production C and 450 C by less than 5 points in each class. His brother, Dylan Tremellen, did very well also. He posted a 4th in Pro Am and 3rd in Pro Sport. In the 15 classes and having some of their riders competing in the same classes, Root River Racing finished with 2 class championships, 11 class top five's and 19 class top ten's. The team saw a lot of the podium this year with 23 overall wins and 76 podium finishes.
Noah Mickelson captured both 450B & Open B Class Championships
Root River Racing continued its support of the Racing 4 Cancer foundation this year with Tom Vossman contributing for every rider's podium finish and Rich's generosity. This year Rich and Tom will be writing checks to Racing 4 Cancer totaling $50,000. Tom and Rich are happy to do this on behalf of our rides and the support of curing cancer.

2016 was the toughest season for Rich. Before the season even started, Rich's doctors let him know that he really needed to strive for a less stressful and healthier life style. Running a race team with 12 Full sponsored riders, 11 partial sponsored riders, 4 full time employees and having 5 race rigs out on the road Rich's says, "This hobby has grown into a full-time job and a very stressful one at that." At the third race, Rich caught 2 of his riders breaking one of the most significant rules in the agreement to be a full sponsored rider for Root River Racing. That was the turning point for Rich to make major changes with the team. Rich told me that after that race he went home and had to find the reasoning why he doesn't just shut it all down. Even though he was hurt by 2 of his riders, the out pouring of appreciation for not just giving them a slap on the hands and actually suspending them for 3 rounds. The appreciation and the rest of the riders he sponsors were what helped him push through and continue on.
Even though the team did very well in the 2016 season, Rich as the owner needed to make some changes. Downsizing and simplifying the operation was his decision. Tom Vossman had made it known to Rich in the latter part of the season that he was interested in starting his own team and wondered if it would be ok if Sam Rowe went with Tommy and JoHannah. Rich agreed to let Sam leave, but would still significantly sponsor Sam's Pro program. At Loretta Lynn's in August, the decisions had been made and it was up to Rich to let Brandon O'Neill, Tyler Mack, Owen Subjek, Noah Mickelson and Haedyn Mickelson go from the team. Needless to say, this was a very tough time for Rich since he considers everyone on his team as family.
The downsizing of the Root River Racing team to just four riders has caused a downsizing of the staff at the shop. Rod Mickelson and Tony Subjek were let go as well. Both men were large contributors to the team's success. After 10 years of loyalty and service to Rich and the team, Rod was the hardest person that Rich had ever let go from a job. Rod was the one that helped Rich get his son Alex into racing and keep him on the straight narrow, so you might understand how difficult it was for Rich to let him go.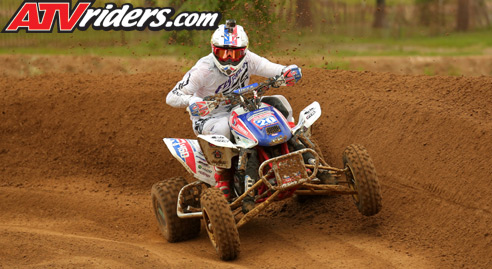 2017 Root River Racing Pro Racer's #20 Josh Upperman & #940 Dylan Tremellen
Looking forward to the 2017 season Root River Racing will have Pro #20 Josh Upperman, Pro #940 Dylan Tremellen, Amateur #126 Logan Tremellen and Amateur #88 Alex Gillette running as full sponsored riders.
2017 Root River Racing Amateur Racer's #88 Alex Gillette & #126 Logan Tremellen
Dropping down to only four riders riding under the Root River Racing awnings, Rich say it has given him the ability to help a few more up and coming riders with "Significant Sponsorship" as he calls it which is just below what he considers "Full Sponsorship". Those riders would be Pros Thomas Brown, Jeffrey Rastrelli, Sam Rowe, Nick Gennusa, Ronnie Higgerson, Sean Taylor and amateur rider Tyler Mack. The teams lowest level of sponsorship is "Partial Sponsorship" which goes to the riders that have the skill, drive and desire to race nationals, but whether it is work, family events, school or just simply races that are too far for them to travel Rich offers gift card to riders for each race that they do make it to. Rich has increased this level of sponsorship from 11 riders in 2016 to 20 riders in 2017.
Prior to Rich's decision to down size the race team, he had already started construction of a new race shop and headquarters that would accommodate the needs of a race team of this size. He assured me that he would still put the building to good use and that while the nationals are in the Midwest for Sunset Ridge and Spring Creek races, the shop doors would be open to riders needing a place to do maintenance on their quads instead of going all the way back home. All he asks is that you talk to him first.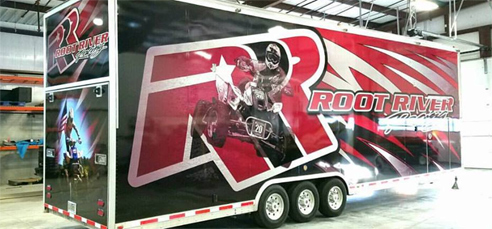 Root River Racing has already wrapped a new rig for the Pro Team for 2017 & the team will be training in Florida & Texas
On a final note, as riders are starting their journey south to train and ride, the Root River riders will be splitting their time between Florida and Splendora Texas this off-season. Rich said, "I have been asked quite a few times if and when we'll be having our race school. Unfortunately, with the team splitting their time in two locations I didn't want to commit to doing a race school. If I can't do it right, I don't want to do it at all. We'll see you all in Daytona or in Texas. Safe travels and training to all my family in the racin' nation"