Santee, CA (5/12/2016) - Duncan Racing's Mike Sloan has shown the poise and consistency of a seasoned veteran during his rookie season in the WORCS Pro ATV Series. At Mesquite MX, the two-time WORCS Pro Am Champion finished a career best second, topping of a string of five consecutive podium finishes.
After winning two Pro Am Championships and two Open A Championships back to back, the rider of the #23 Duncan Racing/Roll Design/Elka/Goldspeed/STI Honda was looking for big things this season. As they say: "Be careful what you wish for." Not only is he in contention for the 2016 title, Sloan became a dad this year. His new daughter, Seeley, actually celebrated with her dad on the Mesquite podium.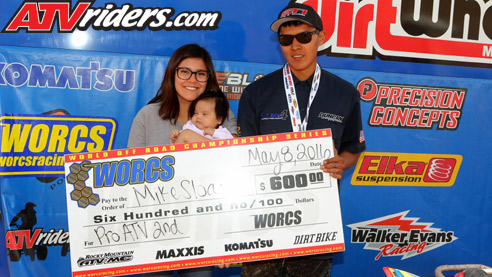 Mike Sloan celebrates his best WORCS Pro ATV Career finish in second at Mesquite MX in Mesquite, Nevada
"It was nice for her to come out to the race," said Sloan. "I have been working during the day and getting my training in at night and on the weekends. I'm just trying to keep up with my program and being a dad. I'm pretty busy right now, going back and forth between Arizona and California."
Busy is apparently good for Sloan. His string of five podiums shows his talent as a rider. But talent can only get you so far in the upper echelon of ATV Racing. Key sponsorship is equally important and Duncan Racing has come through strong for Sloan this year.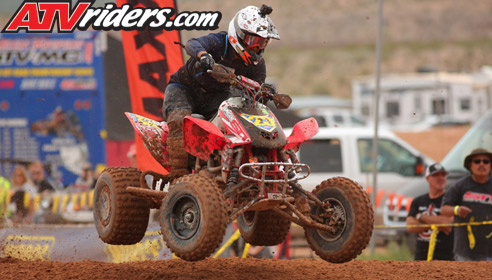 Mike Sloan has accumulated five podium finishes in his first year in the WORCS Pro Ranks
"Duncan Racing is a huge part of my program," said Sloan. "Lenny Duncan helps a lot. He's always there during the race weekends and during the week. Loren builds my engines, and Lenny prepares my bike. They both manage my program. Sometimes my parents can't make it to the races, so it's nice to have Lenny always there. We all just have a good relationship."
Mike Sloan makes his way to the finish line at Mesquite MX to secure the second place finish
Sloan has another long relationship with STI Tires. He appreciates the effort and engineering that goes into each set of STI tires he puts on his quad.
"They are really true to their size and they are consistent," said Sloan. "So I know when I put on a new set of tires, they will hook up just like the last set."
Race day at Mesquite was a tough one for Sloan. After a difficult start when Sloan locked wheels with another race, which sent him to the back of the pack, he had to make his way through the field on the tricky combination of a true motocross course and a sand wash off-road section. In the end, he passed veteran Beau Baron on the final lap to solidify his runner-up finish.
"I had a really bad start, so I had to work my way up," said Sloan. "I was in third on the last lap. Beau had a crash that set him back. I could see him from a distance, so I knew it was time to give it all I got. We were sprinting up the hill, I got past him on the outside and held him off in the end."
Sloan's training program continues as his prepares for the next race on the WORCS schedule.
"I'm pretty happy with the way I rode today after being stuck in the first corner then making up a lot of time to finish 20 seconds behind 1st, I'll take it," said Sloan. "I feel like I should be contending for the win every race, but stuff happens. This is my first season as a WORCS Pro and I'm learning a lot."
The series next visits Iron Mine MX in Cedar City, UT May 27-29 where, if things continue as they have, Sloan will be contention for his first Pro victory.
2016 Mike Sloan Sponsors:
TSR. Duncan Racing, Roll Design, Elka Suspension, STI Tires, Goldspeed Wheels, Tireblocks, GPR Stabilizers, RK Chain, One Industries, Maxima USA, IMS Products