Las Vegas, NV (6/17/2016) - Top ATV racers have to rely on more than just talent to win races and clinch championships. It takes hard work, great preparation, and quality products to get them to the finish line, and Goldspeed makes the best wheels and tires. Goldspeed's top riders are all proving that this year as they are at their competitive best in their respective series.
Weight is key in racing, and that's why the top riders in ATV racing are choosing Goldspeed Wheels. Goldspeed Wheels are lightweight, durable and provide the performance they need to defend their No. 1 plates.
4 Times Pro ATV Motocross Champion Chad Wienen runs Goldspeed Wheels
Pro ATV Motocross Champion, Chad Wienen, has won his last three titles on Goldspeed wheels, and he is once again leading the charge in 2016 as he chases after his fifth straight championship. Wienen has two wins and a string of four-consecutive second-place finishes in six races. He likes the ease of use and durability of his Goldspeed wheels.
"We made the switch to Goldspeed in 2013 and we've been winning championships ever since," said Wienen. "They are lightweight and durable, as well as being easy to work with. They are strong enough to handle the abuse we put them through."
Rastrelli has come on strong in ATV Motocross competition this year consistently finishing in the top five, along with two podiums, and he made the switch to Goldspeed tires at the beginning of the season.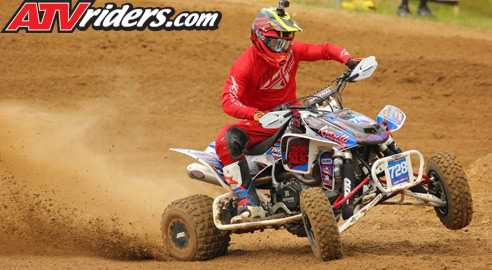 Jeffrey Rastrelli made the switch to Goldspeed Tires for 2016
"It's an awesome tire, and I cannot say enough about it," said Rastrelli. "I run the MXR2 Blue Label on the rear and the SFX on the front. I use them everywhere; we just change the tire pressure as needed."
Multiple time EDT champion, Brad Riley, is leading the charge with two wins in the NE EDT Series Pro class after a runner-up finish in the season opener. He's been running Goldspeed wheels for the last two seasons.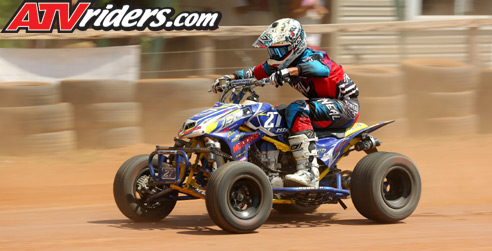 Multi-Time Pro EDT Champion, Brad Riley
"They work really well," said Riley. "They are lightweight and their people are really easy to deal with. They make really good wheels which is shown by all the champions running them."
The Pro XC1 and Pro-Am XC2 points leaders in GNCC racing also just made the move to Goldspeed wheels at mid-season, and defending pro champion, Walker Fowler, claimed the win at Tomahawk this past weekend in his debut on the Goldspeed wheel.
Walker Fowler took his first win on the Goldspeed Wheels at the Tomahawk GNCC
"It was awesome to bolt on these wheels and go on to win," said Fowler. "Our old wheel company didn't seem to want to help us anymore and Goldspeed was chomping at the bit. Just about every champion on the East Coast is a Goldspeed rider. They have an impressive resume and the results speak for themselves. It was an awesome easy switch. We bolted them on and went out and won."
Fowler appreciates the lightness of the Goldspeed wheels. "They're almost a half a pound lighter each," explained Fowler. "That's a full pound at the rear wheels and we all know that lighter weight on a rotating mass makes a huge difference."
Greg Covert is the newest member of Goldspeed squad, having signed with them just after the last GNCC XC2 Pro Am race. He's won twice this season on his Yamaha in his just first season in Pro Am. He finished on the podium in four additional event and he leads the points chase. He'll be running both Goldspeed wheels and tires after the summer break.
"They are a company that's going to be around awhile and they definitely help out their racers, so that's why we're switching," said Covert. "We're testing them now in some local races and we'll have them on the bike after the summer break. Everything didn't really work out with our old tire and wheel companies, so it was easy to make the switch."
Keep on eye on these Goldspeed racers as they move forward and contend for championships.