BEST IN THE DESERT
Pahrump Nugget 250
Los Angeles, CA (12/7/2016)
- Dynamic Off Road Racing driver Jason Farrell drove his Can-Am Maverick to a third-place finish in the SXS Unlimited Class of the Pahrump Nugget 250, the season finale for the Best in the Desert Series. The effort placed the rookie third in points in his first season of off-road racing. Team owner/driver Paul Kraus had mechanical issues, but was happy to further approach his learning curve.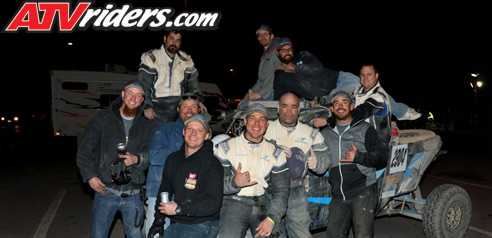 The Dynamic Off-Road Racing Team Celebrated at the Pahrump 250 finish line after wrapping up their first full year of Best in the Desert Racing with Paul Kraus and Jason Farrell each driving in 2016
Farrell, along with co-driver and brother-in-law Anthony Perez, took on the difficult course and put together a consistent effort on the 255-mile circuit. The event was held in the desert outside Pahrump, NV and featured various obstacles, including large silt beds, rocks, fast sections, and tight turns.
"That was probably the roughest course of whole year," said Farrell. "There were some fast sections, but the rocky sections were just brutal. It was tough. This season has been amazing. I have a great team with unbelievable support. Every race, we learn something new, we are getting better and better and we're looking forward to next year."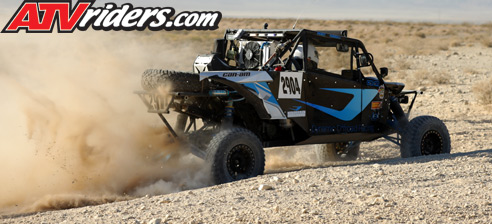 Dynamic Off-Road Racing's Jason Farrell finished 3rd at the BITD Pahrump 250 Season Finale, which earned him third in the Unlimited UTV Championship
Farrell didn't get a chance to pre-run the course and had to quickly come up to speed. He was pleased to run a challenging race and come away with a runner-up finish.
"I didn't know what to expect," explained Farrell. "It was really a mixture of everything with the silt and the rocks and the fast sections. There were tight turns and lots of road crossings, as well as speed-regulated areas. It was a good race, it was challenging and it's nice to have a tough race. It's nice to put the time in and finish."
Off-road legend Cory Sappington built Dynamic's two Can-Am Mavericks. He even let them use one of his non-turbo cars because the team got a late jump on the season.
"Last October, in a late-night phone call I called my buddy Eric about starting a race team," said Kraus. "He brought Jason in and that was the start of it. Jason met with Cory Sappington and said we wanted to build two cars. Cory was nice enough to let us use his non-turbo to start the season. We assembled the team and we have all become good friends."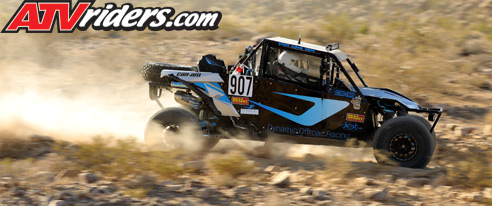 Dynamic Off-Road Racing's Paul Kraus competed in the Pro Turbo UTV Class in 2016
Though Kraus didn't finish the race, that's not what it's about for him. Instead, he is a team owner that is having fun racing.
"This is the first time we've competed in desert racing and, for me, it's more about the team than my results," said Kraus. "I don't have to win. I'm just having fun. Today was probably our most fun race. We broke, but I got into the zone before that. I was hitting the turns and using everything these guys taught me. I would have loved to finish the race, but for me it's about becoming a better racer."
Kraus plans to field a three-car team next year. Along with Farrell and himself, he'll add driver Andy Piuma to the squad. They will run in both the Turbo and 2900 classes.
"We're going to run two X3s and a Maverick and keep competitive," said Kraus. "We're committed to Can-Am. This has been a great learning year. It's phenomenal to see the growth of the team."
Dynamic Off Road Racing will be ready as the 2017 BITD season kicks off January 6-7 for the Parker 250 in Arizona.